(Festo IMTS Booth # 134357, East Building Level 3)
ISLANDIA, NY, September 6, 2018 — Festo features at IMTS 2018, Sept. 10-15 at McCormick Place, Chicago, the Motion Terminal, a modular Industry 4.0 device - a single unit capable of replacing 50 different components through the download of various combinations of cloud-based apps. (Festo IMTS Booth # 134357, East Building Level 3)

The Motion Terminal seamlessly integrates computational algorithms and physical components. This new cyber-physical system enables the Industry 4.0 advantages of small lot size manufacturing, adaptability to shorter product life cycles, scalability, resiliency, energy conservation, cloud-based predictive analytics, and more.
At IMTS, Festo also features the latest version of the Handling Guide Online and the new Festo Motion Control Package. These engineering productivity tools slash the costs of Cartesian robot engineering, assembly, and programming as well as shorten time to market for new machines.
Festo showcases the companys expanded offering of electric automation devices, including the new low-cost linear axes ELGC and mini slide EGSC. These new electric actuators offer an optimal ratio between installation space and working space. Additional IMTS highlights from Festo include:
• A portfolio of IO-Link solutions
• A host of mechanical grippers
• Electric and pneumatic safety systems that lower overall risk of equipment damage and worker injury
• A flexible loading system for end-of-line packaging and other applications
• The new CPX-E compact, low-cost controller for handling systems.
Festo demonstrates how the companys global Stars of Automation program lowers downtime and reduces overhead through guaranteed 24-hour shipment of core Festo products.
For more information about these and other systems at Festo, call 800-993-3786 and/or visit https://www.festo.us.
###
Photo Caption
Industry 4.0
In the production of the future, networking will be everywhere as the real and virtual worlds merge.
About Festo
Festo is a leading manufacturer of pneumatic and electromechanical systems, components, and controls for process and industrial automation. For more than 40 years, Festo Corporation has continuously elevated the state of manufacturing with innovations and optimized motion control solutions that deliver higher performing, more profitable automated manufacturing and processing equipment.
Connect with Festo: Facebook, LinkedIn, Twitter and YouTube
Featured Product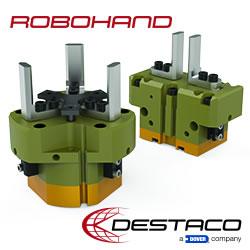 Automatically change end effector tooling quickly and easily with Destaco's Automatic Tool Changers. Designed with exceptional repeatability, high rigidity and load capacity, they are perfect for multiple tooling applications utilizing one robot. We offer different models and sizes to handle light-duty to heavy-duty applications. Our RQC/RTP Series provides a high level of flexibility with a configurable, modular design that accommodates up to four optional modular interfaces.