For applications where compact dimensions are essential, these electric axes can be combined into space-saving handling applications that fit seamlessly into assembly, testing, inspection, small parts handling, and desk top systems. (Festo IMTS Booth # 134357, East Building Level 3)
ISLANDIA, N.Y., September 6, 2018 — Festo showcases at IMTS 2018, McCormick Place, Chicago, September 10-15, the new low-cost linear axes ELGC and mini slide EGSC. These new electric actuators offer an optimal ratio between installation space and working space. They feature a common system approach and platform architecture as well as space saving adapter-free connectors. (Festo IMTS Booth East Building Level 3 # 134357)

The efficient use of space that characterizes both the spindle and toothed belt axes ELGC and the mini slide EGSC is essential for assembly, testing, inspection, small parts handling, and desktop applications. ELGC/EGSC-based handling systems, whether they are pick-and-place solutions, linear, or three-dimensional gantries, benefit from each units compact dimensions.
The spindle and toothed belt axes ELGC with its internal, protected recirculating ball bearing guide is particularly suitable for X-, Y-, and Z-axes applications. The mini slide EGSC is ideal for Z-axis movements or guided linear individual movement in any mounting position. These two drives share technical features, including weight-optimized design, matching interfaces, and adapter kits. The corresponding motors offer flexibility in mounting. Using the universal fastening profiles, EGSC can be combined directly with the larger ELGC base axis without an additional adapter plate. This facilitates a particularly compact handling system. Users do not need any special expertise or tools for mounting.
For more information about these and other systems at Festo, call 800-993-3786 and/or visit https://www.festo.us.
###
Photo caption
New Electric Actuators
The new spindle and toothed belt axes ELGC and mini slides EGSC from Festo are ideal for compact and low-cost electric handling systems.
About Festo
Festo is a leading manufacturer of pneumatic and electromechanical systems, components, and controls for process and industrial automation. For more than 40 years, Festo Corporation has continuously elevated the state of manufacturing with innovations and optimized motion control solutions that deliver higher performing, more profitable automated manufacturing and processing equipment.
Connect with Festo: Facebook, LinkedIn, Twitter and YouTube
Featured Product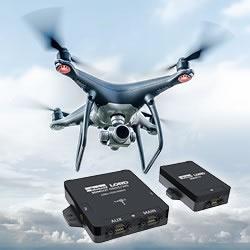 LORD Sensing, Microstrain manufactures the smallest and lightest industrial-grade inertial sensors available that are used in advanced manufacturing, off-highway vehicles, commercial and military manned and unmanned vehicles, and civil structures. Products come temperature compensated using a proprietary calibration process and include inclinometers, vertical reference units, IMUs, AHRS and INS/GPS for navigation, stabilization, mobile mapping, terrain compensation and more. Contact LORD for additional custom designed solutions.