STEM System Technology Incorporated into VUDU System for Precision Robots in Industrial Environments
Los Gatos, Calif. - September 10, 2018 -- Sixense Enterprises Inc., a leading provider of immersive computing solutions for enterprises, and Sisu, a creator of industrial, intuitive robot systems, today announced that Sixenses STEM technology will be deployed in Sisus VUDU system for industrial robot programming. Sixenses advanced motion-tracking has enabled Sisu to launch their most intuitive system yet, reducing programming time from days or hours to just minutes.

Sixenses motion tracking solution pairs perfectly with Sisus VUDU system by providing highly accurate tracking data to enable extremely precise control for programming industrial robots and machinery. Unlike many industrial motion tracking applications, Sixenses technology is not subject to ambient light interference and occlusion, making for a more seamless control experience in industrial environments where light levels and physical location may not be ideal.
"In the past, conditions on factory and shop floors have made it nearly impossible to deploy advanced motion capture technology that is essential for enabling easy programming of industrial robots," said Russell Aldridge, Co-founder and CEO of Sisu. "With Sixenses motion tracking technology, we are able to bypass these issues, paving the way for countless organizations to increase their efficiency through precision automation."
Sisus VUDU System makes industrial robot programming easier than ever before, by deploying Sixenses motion tracking solution, the systems controller is able to translate and rotate the end effector in six degrees of freedom. The handheld controller is paired with a tablet to enable ease of editing and viewing of the program, adjusting points, saving programs, defining speeds, changing move types, activating grippers, adding programming blocks, and defining acceleration. The VUDU System dramatically decreases the time and complexity of programming, opening the path to automation for thousands of new applications.
"We are very excited to be Sisus motion tracking solution choice for their revolutionary VUDU System," said Amir Rubin, CEO of Sixense. "We look forward to continuing our partnership with Sisu to make the VUDU System the leading solution for robotics programming by enabling easy and intuitive programming of robots anywhere, in real time"
The VUDU system is highly intuitive, allowing one to control articulation speed by increasing or decreasing pressure on the controller trigger. The joystick can be used for fine adjustment with the frame of reference constantly adjusting to the position of the user. Positions can be recorded as point-to-point moves, or as part of a spline. Users can switch between the standard Global Reference Frame and the Tool Reference Frame, enabling movement in the same direction as the end effector, an important feature for assembly or machine-tending.
To see Sisus VUDU System in action and for more information on Sixenses Full-Presence technology for industrial applications, visit: https://www.sixense.com/platform/hardware/.
About Sixense
Los Gatos, CA-based Sixense Enterprises Inc. is a leading provider of immersive computing enterprise solutions, including VR/AR. The Sixense Full-Presence Platform combines market-leading VR/AR software with advanced motion-tracking hardware for a powerful,immersive experience that transforms applications in healthcare, training, and entertainment. Sixense technology delivers a more natural and intuitive way to interact in the virtual world, creating a powerful competitive advantage. For more information, please visit: http://sixense.com.
About Sisu
Sisu is located in Austin, Texas and specializes in industrial robot control using advanced motion tracking technology and machine vision. The VUDU robot control system from Sisu dramatically lowers the time and complexity of industrial robot programming. Sisu also provides turn-key solutions for assembly and test in the consumer electronics, automotive, medical, dental, and semiconductor industries. For more information, please visit http://sisu.us.
Featured Product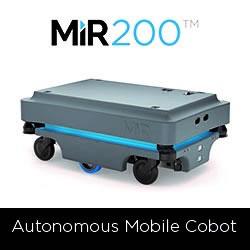 MiR200 is a safe, cost-effective mobile robot that automates your internal transportation. The robot optimizes workflows, freeing staff resources so you can increase productivity and reduce costs. MiR200 safely maneuvers around people and obstacles, through doorways and in and out of lifts. You can download CAD files of the building directly to the robot, or program it with the simple, web-based interface that requires no prior programming experience. With its fast implementation, the robots offers a fast ROI, with payback in as little as a year.