Three new, high-power 905nm laser diodes from QSI
ProPhotonix Limited (London Stock Exchange - AIM: PPIX & PPIR, OTC: STKR), a high technology designer and manufacturer of LED illumination systems and laser diode modules, with operations in Ireland and the United Kingdom, is pleased to announce the addition of three new infrared laser diodes to its product range. These high-power laser diodes are ideally suited to a range of industrial robotics applications.

The new 905nm QL90X8SM/W/V laser diodes are available at multiple power levels ranging from 25 Watts to 75 Watts. The laser diodes are housed in a compact 5.6mm can specifically designed to allow operation at temperatures as high as 85°C.
The reliability and durability of these IR laser diodes will ensure consistent system performance. The new laser diodes from QSI are suitable for a wide range of other applications including automotive, LiDAR, laser range finders, industrial optical modules and sensor applications.
Jeremy Lane, Managing Director of ProPhotonix Limited UK said, "ProPhotonix has over 20 years of experience in the laser diode industry and is therefore well placed to assist our customers in selecting the right laser diode to suit their specific application needs. With these latest additions from QSI, we are offering new robust, reliable and thermally efficient solutions."
For further information on the new range of QSI laser diodes the QL90X8SM, QL90W8SM and QL90V8SM, contact ProPhotonix at sales(at)prophotonix.com or visit our website to download a datasheet: http://bit.ly/2IyCoBH
Featured Product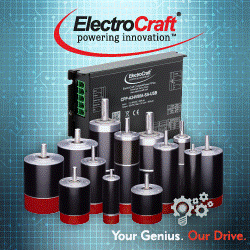 ElectroCraft exhibits its motion control product offer at Robotic related events at trade show and demonstrations across the world. We attend these events and conferences not only to show our motor and drive product offering, but to discuss and learn more about challenges involved with developing commercial robotics across markets.