Pick-it, Intek, and Zivid to demonstrate the latest in robotics and machine vision solutions during OBF where Barack Obama will speak.
OSLO, Norway, September 13, 2018 - Zivid, the 3D machine vision camera company, with partners Intek and Pick-it, are bringing collaborative robots, 3D color vision and advanced algorithms together at the Oslo Business Forum on September 26th.

Barack Obama will speak at the conference where business leaders and decision makers focus on the future of technology advancement and how to create sustainable businesses in a digital era. Participants at Oslo Business Forum can enjoy various collaborative robots from Intek, a specialist in robotics solutions. Demos include ABB's dual-arm Yumi, paired with human-like robot eyes from Zivid. Pick-it provides the vision software which guides robots to perform tasks like picking, placing, and assembly based on 3D machine vision.
"Together with our partners, Zivid will demonstrate how robots now can perform more advanced automation tasks and discuss the impact of robot automation for businesses in Industry 4.0," said Henrik Schumann-Olsen, CTO and CMO at Zivid. "With human-like 3D robot vision, smart vision software and flexible robot solutions, we enable collaborative robot and automation tasks that previously wasnt possible".
"In order to get more robots in medium and small sized factories, we need to give them the ability to see, recognize and pick any possible object in their environment." says Bert Willaert, CTO at Pick-it. "Similar to humans, we provide easy teaching of new objects by just showing them to the Pick-it system. The Zivid 3D camera gives quality data, enabling Pick-it to robustly recognize where objects are and precisely guide the robot picking."
Availability
The Zivid One 3D color camera is available via distributors and system integration partners, or directly from sales@zivid.com. The picking application is built on top of Pick-it, sold by a global distributor network, enquiries at sales@pickit3d.com.
About Intek
Intek Engineering AS is a second-generation family company established in 1980. With more than 30 years of experience supplying robotics solutions, Intek has earned a leading role in the industrial robotization and automation in Norway. We have a combined in-house knowledge of almost 400 years of robotics technology experience. We have always provided our customers with reliable solutions for high uptime, accuracy, flexibility, and profitability that are competitive in the international market.
Learn more on http://intek.no/
About Pick-it
Pick-it makes robot automation accessible to everyone. We do so by giving eyes to robots, so they can see where objects are positioned in their surroundings. This not only makes them smarter, but also easier to deploy in flexible, human working environments.
By offering a plug and play product to our customers, we offer them a high return on investment and future proof flexibility. We work together with distributors and system integrators that integrate Pick-it in production facilities of small and medium sized enterprises.
More info on all things Pick-it can see at https://www.pickit3d.com/
About Zivid
Zivid is a leading provider of 3D cameras and software solutions for automated machine and computer vision applications. Our technology is based on 15 years of R&D, with in-house expertise in optical sensors, 3D machine vision hardware and software. Zivid is focused on 3D color vision for industrial automation, robotics, manufacturing, warehousing and smart factories. We enable new and existing applications to be automated, and customers to improve time and cost towards applications like picking, handling, assembly, guiding, inspection and quality control. Zivid One is the ultimate set of eyes for Industry 4.0 and warehousing applications.
Zivid One has received numerous awards for its technical features, quality of data (QOD), and design implementation. Awards include "Top Innovation Award" by inVISION Magazine, "Gold Innovators Award" by Vision System's & Design, Red Dot's "Product Design" award, and the Research Council of Norway's prestigious "Innovation Award."
Find more information about how Zivid is shaping the future of 3D vision at www.zivid.com.
Featured Product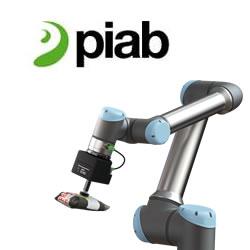 Piab's Kenos KCS gripper enables a collaborative robot to handle just about anything at any time. Combining Piab's proprietary air-driven COAX vacuum technology with an easily replaceable technical foam that molds itself around any surface or shape, the gripper can be used to safely grip, lift and handle any object. Standard interface (ISO) adapters enable the whole unit to be attached to any cobot type on the market with a body made in a lightweight 3D printed material. Approved by Universal Robots as a UR+ end effector.