Fog World Congress 2018 will feature diverse topics ranging from tutorials and research to the social impact of AI, autonomous robotics and blockchain in fog environments
FREMONT, Calif., - Sept. 20, 2018 - With continuing advances in artificial intelligence (AI) and the plausible opportunities it promises to provide, a number of leading technology visionaries have expressed their concerns over its far-reaching risks. During Fog World Congress 2018, Luciano C. Oviedo, researcher at the Warwick Business School and Arizona State University, will address this issue head on as he moderates the panel session: The Social Impact of Emerging IoT/Fog/AI-enabled Technologies.

The panel will address one of many hot topics at Fog World Congress, October 1-3, 2018 in San Francisco. Other highly anticipated presentations and sessions include autonomous robotics, smart buildings and manufacturing, security, blockchain, testbeds and fog standards.
"Elon Musk warned us that AI is far more dangerous than nukes. So, what happens now that AI is quickly converging with fog computing, IoT, 5G, blockchain and other highly anticipated technologies?" said Oviedo. "This panel will explore latest thinking on crucial topics such as: Who owns and controls passenger data generated in an autonomous vehicle? Who is responsible for security to prevent it from being hacked? Who is liable if there is a breach? Who chooses what decisions the algorithms make in life-threatening situations? Well discuss how organizations can get their brains around questions aimed at promoting benefits of these technologies while mitigating their risks."
The topic proved to be so popular at last years Fog World Congress that it will be delivered in two back-to-back sessions this year. Joining Oviedo on this panel to explore the opportunities and challenges from different perspectives are:
• Jonathan Fox, Director Strategy & Planning, Chief Privacy Office, Security & Trust Organization, Cisco;
• Brian Green, Director, Technology Ethics Santa Clara University;
• Ashwin Krishnan, CEO Ashwin Krishnan; and,
• Sotirios Paroutis, Professor of Strategic Management & Head of Strategy and International Business Group, Warwick Business School.
Register here to attend the session and the conference.
In addition to a full slate of exciting speakers and keynotes, Steve "Woz" Wozniak, Apple co-founder and inventor of the world's first personal computer, will participate in a fireside chat with Helder Antunes, Chairman of the OpenFog Consortium and Senior Director, Cisco, to discuss AI, IoT, fog and other exciting technology topics.
Fog World Congress is the largest gathering of fog computing leaders and edge influencers worldwide. It is produced by the OpenFog Consortium in collaboration with IEEE Communications Society. Attendees include technologists, data scientists, application developers, educators, researchers, analysts, VCs and investors, service providers, government agencies and enterprises representing a wide variety of industries. The event provides a platform to showcase fog computing use cases, architecture, standards, developments and research. Topics range from: Intelligence on the edge, machine learning, infrastructure-as-a-service, smart grid, intelligent IoT services, 5G, security, AI, smart city, network/messaging, software infrastructure, mobile edge computing, the OpenFog Reference Architecture and more. The event culminates with Fog Tank, which showcases leading innovators in fog technologies and applications as they take the center stage with investors and VCs.
Another exciting addition this year: autonomous mapping robots will be traversing and mapping the venue floor in real-time for conference attendees. It will serve as a live, proof-of-concept demonstration to validate how fog systems belonging to different domains can communicate with each other. These proof-of-concept robots are designed based on the OpenFog Consortium OpenFog Reference Architecture, which has been adopted in the IEEE standard for fog computing.
About OpenFog Consortium
The OpenFog Consortium was founded to accelerate the adoption of fog computing and address bandwidth, latency and communications challenges associated with IoT, 5G and AI applications. Committed to creating open technologies, its mission is to create and validate a framework for secure and efficient information processing between clouds, endpoints and services. OpenFog was founded in November 2015 and today represents the leading researchers and innovators in fog computing. For more information, visit www.openfogconsortium.org; Twitter: @OpenFog; LinkedIn: /company/openfog-consortium.
About IEEE ComSoc
IEEE is the worlds largest technical professional organization dedicated to advancing technology for the benefit of humanity. Through its highly cited publications, conferences, technology standards, and professional and educational activities, IEEE is the trusted voice in a wide variety of areas ranging from aerospace systems, computers, and telecommunications to biomedical engineering, electric power, and consumer electronics. The IEEE Communications Society is a leading global community within IEEE comprised of a diverse group of industry professionals with a common interest in advancing all communications technologies. Learn more at http://www.ieee.org.
About IoT Evolution
IoT Evolution combines the power of live conferences with a robust news site, global online communities, webinars, a magazine, and white papers to educate, inform and connect thousands of IoT stakeholders from across the globe. The IoT Evolution brand is the go-to resource for anyone innovating and leading the way in the IoT space. For more information, contact Scott Kargman at Scott@crossfiremedia.com.
Featured Product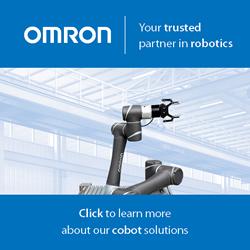 Humans and robots can now share tasks - and this new partnership is on the verge of revolutionizing the production line. Today's drivers like data-driven services, decreasing product lifetimes and the need for product differentiation are putting flexibility paramount, and no technology is better suited to meet these needs than the Omron TM Series Collaborative Robot. With force feedback, collision detection technology and an intuitive, hand-guided teaching mechanism, the TM Series cobot is designed to work in immediate proximity to a human worker and is easier than ever to train on new tasks.