Soft Robotic Solutions for E-commerce, Grocery, Retail and Logistics to be Demonstrated
Soft Robotics, Inc. will demonstrate the advanced capabilities of its award-winning soft robotic automation systems at PACK EXPO International in Chicago, IL from October 14-17, 2018. Attendees can witness the robotic grasping technology that enables the handling of variable, unstructured tasks without the need for complex programming or sensors. This solution provides manufacturers with the flexibility to automate processes that were otherwise incapable of being automated. Attendees can find Soft Robotics at Booth E-7207.

A fully-automated grocery order fulfillment system enabled by Soft Robotics SuperPick™ system will be demonstrated in the booth. Designed specifically for e-commerce, grocery, retail and logistics environments, SuperPick combines the power of patented Soft Robotics technology with artificial intelligence to enable the automation of highly unstructured tasks like bin picking, sorting and goods to robot fulfillment. SuperPick is now commercially available for customers seeking to rapidly fulfill orders, eliminate seasonal hiring, and reduce operational costs.
Soft Robotics will also demonstrate a high-speed cosmetics application using vision-guided robotics and a conveyor-to-conveyor system to highlight the rapid capabilities of packaging delicate high-value goods. Soft Robotics gripping systems are designed to mimic the dexterity of the human hand and can grasp items of various sizes, shapes and weight with the same easy-to-use end of arm tool while keeping the integrity of the handled product intact.
"The power of these applications really comes down to Soft Robotics award-winning core technology, which represents a fundamental departure from the complexities and cost associated with traditional robotic gripping," said Carl Vause, CEO of Soft Robotics. "By replacing numerical computation with material science, we are able to simplify the machine learning problem of robotic grasping by two to three orders of magnitude. That is why SuperPick can solve previously inaccessible automation challenges for e-commerce, grocery and retail companies with little to no human involvement. Its this same technology that enables high-speed packaging in high-volume / high-mix packaging environments without the need to program every individual SKU."
For more information and to visit Soft Robotics at PACK EXPO, visit: http://info.softroboticsinc.com/pack-expo-highspeedpackaging-orderfulfillment
About Soft Robotics:
Soft Robotics designs and builds soft robotic automation systems that can grasp and manipulate items of varying size, shape and weight. Spun out of the Whitesides Group at Harvard University, Soft Robotics is the only company to be commercializing this groundbreaking and proprietary technology platform. Today, the company is a global enterprise solving previously off-limits automation challenges for customers in food & beverage, advanced manufacturing and e-commerce. Soft Robotics engineers are building an ecosystem of robots, control systems, data and machine learning to enable the workplace of the future. For more information, please visit www.SoftRoboticsInc.com or follow the company @SoftRoboticsInc.
Featured Product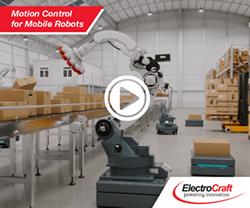 ElectroCraft is showcasing its award-winning mobile robot technology including their powerful and compact wheel drives, high-torque-density brushless DC motors, precision linear actuators as well as servo motor drive technology at a variety of conferences and tradeshows including the Boston Robotics Summit. Robotics Summit is the premier symposium for the sharing of ideas, technology, and market developments for robotic technologies across industries. Beyond a showcase and pitch of product, ElectroCraft is eager to participate in the collaborative discussion of challenges and opportunities that will shape the near and long-term robotic marketplace.