Booth to feature power of connected for improved asset utilization and reliability
CINCINNATI, Oct. 2, 2018—Honeywell Intelligrated today announced its booth demonstrations for the upcoming PACK EXPO International trade show in Chicago. From Oct. 14-17, the company will feature the power of connected in palletizing, augmented reality and field services in booth S-2560.

The booth demonstration features the Alvey 890i palletizer, capable of handling a variety of stacking patterns, small and difficult-to-handle products, and a wide range of packaging types. Pattern utility software enables operators to create new case patterns in minutes from an intuitive touch-screen interface, which also provides advanced diagnostics. The machine offers industry-leading safety features and a maintenance-friendly design for reliable performance in food, beverage and consumer packaged goods operations facing SKU proliferation and changes in packaging.
"The evolving demands of modern commerce put immense pressure on manufacturing operations," says Pieter Krynauw, president, Honeywell Intelligrated. "Finding a competitive edge requires leveraging automation systems to their maximum potential, and that means embracing digital transformation and unlocking value from equipment-level data."
Connected offerings from Honeywell Intelligrated are designed to increase reliability and asset utilization for material handling automation systems throughout manufacturing facilities and distribution centers. Data from machine-level sensors enables real-time equipment monitoring, feeds predictive maintenance models and helps uncover causes of idle time to increase asset utilization.
Additionally, attendees can experience the companys TechSight augmented reality maintenance solution firsthand. It uses smart glasses and a videoconferencing platform to instantly connect on-site technicians with remote Honeywell Intelligrated technical support experts. This enables live service instruction via two-way audio and visual communication, expediting service issue resolution and reducing cost. The booth demonstration also features the full complement of Honeywell Intelligrated field services, including emergency response service, predictive maintenance, in-house staff support and more.
To arrange a meeting at the show, email info@intelligrated.com. Spanish, French and Portuguese booth support will be available.
Honeywell Intelligrated is a leading single-source provider of intelligent automated material handling solutions and software that drive retail and e-commerce fulfillment productivity. We design, manufacture, integrate and install complete solutions, including conveyor, sortation, palletizers, robotics, and automated storage and retrieval systems — all managed by advanced machine controls and our robust Momentum™ warehouse execution system. Our Connected Distribution Center helps companies make the digital transformation necessary to maximize efficiencies and inform decision making via real-time visibility to assets, automated systems and workers across the enterprise. We back every project with 24X7 multilingual technical support and access to lifecycle services.
Honeywell Safety and Productivity Solutions (SPS) provides products, software and connected solutions that improve productivity, workplace safety and asset performance for our customers across the globe. We deliver on this promise through industry-leading mobile devices, software, cloud technology and automation solutions, the broadest range of personal protective equipment and gas detection technology, and custom-engineered sensors, switches and controls. We also manufacture and sell a broad portfolio of footwear for work, play and outdoor activities, including XtraTuf™ and Muck Boot™ brand footwear.
Honeywell (www.honeywell.com) is a Fortune 100 software-industrial company that delivers industry specific solutions that include aerospace products and services; control technologies for buildings and industry; and performance materials globally. Our technologies help everything from aircraft, buildings, manufacturing plants, supply chains, and workers become more connected to make our world smarter, safer, and more sustainable. For more news and information on Honeywell, please visit www.honeywell.com/newsroom.
###
Featured Product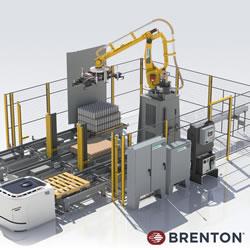 Brenton is a leader in robotic solutions with standard product offerings including palletizing and depalletizing for efficient an option for carrying hard-to-handle products, as well as larger scale systems with an optimized footprint; and case and carton loading solutions for numerous industries. In addition, Brenton works with customers on integrated solutions, offering robotics in a broad spectrum of robotics to fully integrate end of line systems. Brenton helps packaging customers protect their reputation and grow the trust of their consumers.