Machine vision leaders delivers 30x better picking accuracy
Leuven, Belgium and OSLO, Norway, October 5th, 2018 - In the fast growing and evolving robotics market, robot users cite flexibility as the number one reason they choose for 3D vision. Pick-it and Zivid, two leading players in robot vision hardware and software, join forces to accelerate the adoption of robotic 3D vision for Small and Medium sized Enterprises (SME).

The European based company Pick-it NV (Leuven, Belgium) has chosen Zivid AS (Oslo, Norway) and their market leading 3D color camera to offer co-bots and industrial robots of all major brands a plug-and-play solution for pick-and-place applications.
Pick-it is releasing the Pick-it M-HD (High Definition) solution consisting of the Zivid 3D camera, an advanced vision processing unit, and easy to use software tools. This will enable robot operators to quickly get started with 3D bin-picking. Using HD 3D color vision that can handle all sorts of objects, whether it be tiny or shiny, the Pick-it software now detects parts that are 10x smaller with 30x increase in picking accuracy.
"In order to get more robots in medium and small sized factories, we need to give the robots the ability to recognize any possible object in their environment," says Bert Willaert, CTO at Pick-it. "Similar to humans, the Pick-it system learns by looking at a target object once, and with the Zivid 3D camera, Pick-it enables robots to see like humans and guides robots to immediately pick up objects."
Thomas Embla Bonnerud, CEO of Zivid: "Were very excited and proud to be selected 3D camera partner for Pick-it. SMEs need flexible, robust, yet easy to use robot solutions to succeed in the growing process automation market. With the adoption of Zivid 3D vision, Pick-it M-HD now provides a unique, high definition turnkey solution."
Peter Soetens, CEO of Pick-it: "I am very proud that we can now combine the best 3D vision software with the best 3D camera on the market. This will enable our customers to automate even more pick-and-place tasks and we expect this partnership to contribute to our growth considerably."
The Pick-it M-HD is part of the Pick-it 2.0 product update, available from Oct. 5th 2018 on from 50 distributors in 40 countries world-wide.
About Zivid
Zivid is a market-leading provider of 3D machine vision cameras and software for next generation robotics and industrial automation systems.
Its first product, Zivid One, is regarded as the worlds most accurate real-time 3D color camera and brings human-like vision to the smart factories and warehouses of Industry 4.0.
With more than 15 years in-house R&D and in-depth expertise in optical sensors, 3D machine vision hardware and software, Zivid enables customers to boost efficiency and productivity in a range of applications including de-palletizing, bin-picking, pick-and-place, assembly, packaging and quality control.
The Zivid One 3D color camera has received numerous awards for its technical features, quality of data (QoD), and design implementation. Awards include "Top Innovation Award" by inVISION Magazine, "Gold Innovators Award" by Vision System's & Design, Red Dot's "Product Design" award, and the Research Council of Norway's prestigious "Innovation Award".
Follow Zivid Labs
● LinkedIn at https://www.linkedin.com/company/zividlabs/
● Twitter at https://twitter.com/zividlabs
● Facebook at https://www.facebook.com/zividlabs
About Pick-it
Pick-it makes robot automation accessible to everyone. We do so by giving eyes to robots, so they can see where objects are positioned in their surroundings. This not only makes them smarter, but also easier to deploy in flexible, human working environments.
By offering a plug and play product to our customers, we offer them a high return on investment and future proof flexibiliy. We work together with distributors and system integrators that integrate Pick-it in production facilities of small and medium sized enterprises.
More info on all things Pick-it can see at https://www.pickit3d.com/
Follow Pick-it
* LinkedIn: https://www.linkedin.com/company/pick-it-3d/
* Twitter: https://twitter.com/pickit3d
* Facebook: https://www.facebook.com/pickit3d
Featured Product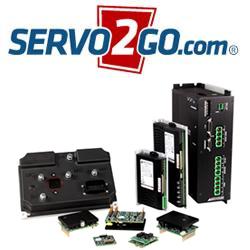 Engineered to drive brushless and brush servomotors in torque, velocity or position mode, Servo2Go.com offers a broad selection of servo drives in a wide range of input voltages and output power levels.