Application experts can access a robot teach pendant anywhere, anytime
Quebec City, Canada, October 9, 2018 — Robotiq launches Remote Access on its Insights monitoring software to bring technical support to the next level for Universal Robots. Application experts can now access the teach pendant and video streams from the robot cell. They get all the live information needed to troubleshoot the application and (re)start production faster.

"This is the end of email chains and long phone calls trying to solve a production issue," explains Robotiq CEO Samuel Bouchard. "Remote Access is a precious ally to operators who are new to collaborative robots. Anytime they have a question, they can talk to an application expert and give access to their robots data. The application expert is able to recommend fixes or tweak the robot program in order to remove blockers."
Remote Access adds up to the numerous useful robot monitoring features provided by Robotiqs Insights, such as real-time alerts, custom KPIs and production reports. By connecting their robots to Insights, Universal Robots users can minimize downtime, monitor their production and optimize their process to get a better return on investment.
Visit insights.robotiq.com to book a demo.
Get the complete press kit—including product images—at remoteaccess.robotiq.com
Featured Product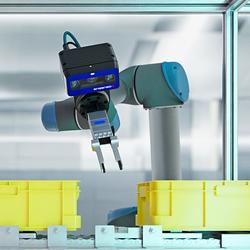 IDS NXT: a platform for a new generation of vision systems for industrial applications. It lays the groundwork to provide easy-to-use yet flexible complete systems that can be used to implement all steps of a vision solution. With IDS NXT ocean, a complete solution especially for AI-based image processing is now available. It allows to solve tasks where classic, rule-based image processing has reached its limits - without any programming effort.