Torc has been developing self-driving vehicle technology since 2005. The company previously implemented its technology in two Lexus RX vehicles, nicknamed Asimov.
BLACKSBURG, VA - Torc Robotics is expanding its commercialization capabilities by integrating its autonomous vehicle technology on a 2017 Chrysler Pacifica Hybrid.

Torcs focus since the company was founded has been on saving lives. The companys technology has done that in mining and defense and now its time for that technology to be used on the countrys streets and highways in an effort to save lives by eliminating human error, said Michael Fleming, Torc CEO and co-founder.
Torc has been developing self-driving vehicle technology since 2005. The company previously implemented its technology in two Lexus RX vehicles, nicknamed Asimov. The vehicles successfully logged robotic testing in more than 20 states while operating on both public roads and closed courses with zero accidents. The testing included a coast-to-coast trip across the United States and extensive driving in densely-packed streets such as those located in Las Vegas, Nevada.
Torcs technology is based on commercially-proven systems the team has developed over the past decade for safety-critical applications such as mining and defense.
Adding the technology to the Pacifica, is another step in the companys dedication to preparing consumer-ready autonomous cars.
"Weve been waiting for the time when it would be feasible to apply our system to consumer cars," Fleming said. "That time is now."
Torcs sensors have been integrated with the body of the Pacifica for streamlined design and functionality. The companys hardware and computers are automotive grade, which ensures cost-effective solutions for scalability and function, Fleming said.
The Pacifica implementation includes LiDAR, radar, cameras and GPS antennas that provide 360-degree perception of the vehicles surroundings. The components have been updated from the versions used on Asimov for commercialization readiness.
"Last year we were focused on proving the technology works," Fleming said. "This year our focus is moving forward with commercialization."
Torc has converted more than 100 vehicle platforms to autonomous or remote-control operation for real world testing and use.
Torcs autonomous vehicle technology has successfully navigated heavy urban traffic, aggressive tailgating, heavy rains, snow and highway detours.
About Torc Robotics
Torc Robotics, headquartered in Blacksburg, Virginia, offers a complete autonomous software solution that easily integrates with different hardware components to turn any car into a self-driving vehicle. Founded in 2005, Torc has integrated its self-driving solutions on ground vehicles ranging from two-ton SUVs to 300-ton mining trucks—in safety-critical environments like military, mining and agriculture. Torc challenges its system to conquer the elements and its self-driving cars have safely navigated heavy rain and snowy roads both day and night.
Featured Product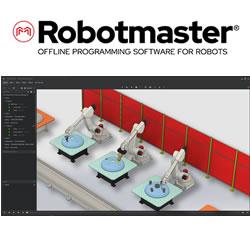 Since Robotmaster V7 uses integrated CAD/CAM functionality, for the first time, the power of Robotmaster can be used by welding, cutting and other process experts without buying or learning complex CAD/CAM software. As in past versions, Robotmaster V7 imports paths, but now makes it even easier for end users to leverage any CAD/CAM tool choice. It is an intuitive tool that anyone could use, with or without robotics expertise. It bridges the gap between robots and manufacturing by providing easy programming solutions for part manufacturing.