With Proprietary Robotics, Companys New End-to-End Fulfillment Operation in the Tel Aviv Metro area, Has Physical Footprint 1/12th the Size of Apples 5th Avenue Store
CommonSense Robotics today announced that its first Micro-Fulfillment Center (MFC™), the worlds smallest automated e-commerce facility, is live and delivering online orders to customers in the metro market of Tel Aviv, Israel. At just 6,000 square feet, the site delivers on the companys promise to fit an automated solution into urban areas, enabling retailers to improve speed of delivery, customer satisfaction, and unit economics. By providing speed of fulfillment and profitability, retailers now have an e-commerce model available to them once considered impossible.

Most grocery retailers currently fulfill e-commerce orders manually inside their stores, a model plagued by inefficiencies, inaccuracies, and most detrimentally, a loss-making cost structure. As the demand for online groceries rapidly increases in the United States, with the online share of total grocery spending increasing by 22% over last year, retailers are increasingly turning to automated solutions to make their online operations more economic and scalable.
Yet by design, most robotic facilities must be at least 120,000 square feet to operate, which is 20 times the size of CommonSenses first site. The immense size of these robotic facilities requires them to be situated in remote locations far from where customers live. This distance, in turn, results in a slow and expensive last mile delivering the order to the customers doorstep. While automation solves the economics of fulfillment, the physical remoteness of these facilities prevents retailers from offering same-day delivery or on-demand delivery, which is currently offered for free by Amazon, the leader of the retail speed wars. Retailers thus face a trade-off between two conflicting pressures: maintaining profitability or maintaining a winning customer proposition. In a highly competitive industry, this is an impossible choice.
With multiple patents on the companys proprietary robotics and its revolutionary solutions topology that focuses on space optimization, CommonSense Robotics is the first solution to reconcile these conflicting pressures. For an explanation of how this solution fits into small urban spaces while supporting the full range of grocery items that a store offers, see the video here.
"We started CommonSense Robotics because as consumers, we wondered: why cant we get our online orders faster and cheaper than going to the store? Were excited to see this groundbreaking technology finally serving real customers to allow for fast, inexpensive deliveries of high-quality products. Its a true win-win for both retailers and consumers," said Elram Goren, CEO and Co-Founder of CommonSense Robotics.
The companys first site is serving the customers of Superpharm, Israels largest health & beauty retailer.
"Staying competitive in todays market is anchored on delivering orders quickly and cost-efficiently, which are always the most complex aspects of any e-commerce operation. With CommonSense Robotics, we will be able to fulfill and deliver orders in under one hour, all while saving costs on both fulfillment and delivery," said Yossi Cohen, VP Organization & Information Systems at Super-Pharm. "Before CommonSense Robotics, we offered our customers next-day home delivery. With this partnership, we are now able to offer our customers same-day delivery and will very soon be offering them one-hour delivery. We believe this immediacy is not only what customers want, but its what they will come to expect from retailers in the very near future," he added.
The company is working with a number of the largest grocery retailers in the US, with multiple sites set to launch across the East Coast in 2019. The launch of this site follows the companys announcement of a nationwide 12-site deal with Israeli grocery retailer Rami Levy.
About CommonSense Robotics
CommonSense Robotics mission is to enable grocery retailers to profitably fulfill and deliver online orders within one hour. To make this a reality, they build networks of automated Micro-Fulfillment Centers in dense urban areas that combine the speed of local delivery with the efficiencies and scale of robotic fulfillment.
Their proprietary robotic and AI technology, together with a pay-as-you-go service proposition, enable their retail partners to profitably deliver to their online customers within one hour and scale their operations as their business grows.
Founded in 2015, CommonSense Robotics is backed by the top-tier VCs Innovation Endeavors, Aleph, and Playground. They've recently completed their first commercial deployment and are rapidly scaling their operations. They're redefining the way goods are fulfilled and delivered within cities, so that we all get our groceries faster.
Featured Product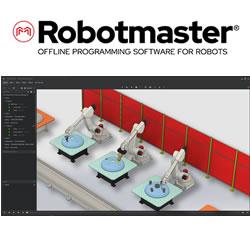 Robotmaster delivers unmatched, full-function off-line programming capability for robots - easy programming of precise robot motion control and quick generation of path trajectories of any size, with minimal programmer intervention. Our strong background in CAD/CAM (Computer Aided Manufacturing) software has enabled us to bring a revolutionary approach to programming industrial robots.