KUKA will display its industry-leading palletizing and packaging solutions alongside its System Partners at the annual packaging tradeshow in Chicago
KUKA Robotics, a global supplier of intelligent automation solutions, will be demonstrating its robotic automation capabilities for the packaging industry among more than 2,500 world-class industry exhibitors at PACK EXPO International in Chicago from October 14-17. PACK EXPO International is the largest packaging event in the world hosting more than 50,000 professionals from all packaged goods industries.

Attendees can visit KUKAs booth #N-5629 to view a series of demonstrations and videos in conjunction with KUKAs System Partners Autotec Engineering and FOCUS Integration. There will also be a team of KUKAs application experts on hand to discuss which solutions can help attendees maximize production while lowering unscheduled downtime. The solutions on display include:
LBR iiwa: The lightweight LBR iiwa (Intelligent Industrial Work Assistant) robot is the first series-produced sensitive robot suitable for human-robot collaborations. This robot has integrated, sensitive torque sensors in all 7 axes giving the robot contact detection and programmable compliance to avoid collisions, thereby eliminating the need for expensive safety fencing. The LBR iiwa from KUKA is available in two payloads: 7 kg and 14 kg with reaches of 800 mm and 820 mm.
KR 6 R900 AGILUS: Known for its high working speeds and precision, the KR AGILUS series offers low space requirements and the choice between installation on the floor, ceiling or wall. Paired with PickControl and ConveyorTech, KUKAs robot-based software solutions for conveyor tracking, KR AGILUS robots can quickly switch between different consumer goods production scenarios. Using this software, the robots can monitor up to three conveyors at once, including linear and circular conveyors in mixed operation.
KUKA KR 60 L45: Combining a compact, modular design with a KUKA KR 60 L45, FOCUS Integrations CUBE is designed to provide palletizing automation to lines that dont fit the requirements of centralized palletizing either because conveyance is too costly or production rates are too low. These units ship on a single platform, install in hours and are ready to run upon receipt. The CUBEs revolutionary software program allows for ease of programming new case sizes along with pallet patterns. It can be outfitted with options such as slipsheet placement and be completely conveyorized.
KR QUANTEC PA: The KR QUANTEC PA series offers a robust design and high-performance motors that allow for up to 27 cycles per minute in palletizing operations. The base frame of this palletizing series is streamlined offering a small footprint to fit in more confined spaces. The KR QUANTEC PA series is ideal for heavy lifting in the palletizing and packaging industry with availability in payloads of 120 kg, 180 kg, and 240 kg all with a reach of 3,195 mm.
For more information about PACK EXPO, visit: https://www.packexpointernational.com/
For more information about the solutions KUKA will display at booth #N-5629, visit: https://www.kuka.com/
About KUKA
KUKA is a global automation corporation with sales of around 3.5 billion euro and around 14,200 employees. As leading global supplier of intelligent automation solutions, KUKA offers its customers in the automotive, electronics, consumer goods, metalworking, logistics/e-commerce, healthcare and service robotics industries everything they need from a single source: from components and cells to fully automated systems. The KUKA Group is headquartered in Augsburg.
Featured Product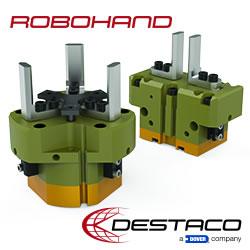 Destaco's Robohand RDH/RTH Series 2 and 3 jaw parallel grippers have a shielded design that deflects chips and other particulate for a more reliable, repeatable operation in part gripping applications ranging from the small and lightweight, to the large and heavy. RDH Series of Rugged, Multi-Purpose Parallel Grippers for Heavy Parts - Designed for high particulate application environments, automotive engine block, gantry systems, and ideal for heavy part gripping The series includes eight sizes for small lightweight to large/heavy part gripping. RTH Series of Powerful, Multi-Purpose Parallel Grippers for Heavy Parts - Designed for large round shaped parts, automotive engine block and gantry systems, and heavy part gripping. They're available in eight sizes for small lightweight to large and heavy part gripping.