KUKA promoted the benefits of automated welding solutions at its West Coast Fremont location alongside sponsors Fronius and Schunk
KUKA, a global supplier of intelligent automation solutions, hosted the Fronius Technology Day event at its West Coast Fremont location on October 30, 2018.

"Welding technology has advanced significantly in the age of Industry 4.0, as solutions like robotics and IoT have taken off," says Joe Gemma, chief regional officer at KUKA. "This was a great opportunity for our customers to see what we have in store for the future of welding, and how our solutions can solve for their welding concerns."
In addition to demos by sponsors Fronius and Schunk at the event, KUKA showcased its industry-leading robotics and automation solutions in a series of demos, including FlexCell welding, human-robot collaboration, iiwa robot hand guiding, and R2/PES micro-fasten demos. A team of welding applications experts from KUKA, Fronius and Schunk were on site to discuss customers welding challenges and help them learn new techniques to maximize production.
During the event, the KUKA, Fronius and Schunk teams discussed a variety of topics related to automated welding solutions and how customers can best take advantage of these technologies in a series of breakout sessions. These sessions looked at the future of the welding industry, specifically focusing on the impact robotics will have on creating more efficient, streamlined and cost-effective welding process. And as welding professionals attempt to navigate the new wave of Industry 4.0 technologies, they can find success in fully understanding the technology and training workers properly.
KUKA also took the time to discuss its KUKA College program as a training resource for customers. In an increasingly complex industry, KUKA College gives welders and other manufacturing professionals the training and resources they need to be successful in welding environment, including robotic operation and programming.
"The welding industry is changing, and fast," says Gemma. "Through programs like KUKA College and events such as Fronius Tech Day, we aim to prepare our customers for whats ahead in welding and Industry 4.0. We spoke with many of our customers while at the event, and were thrilled we were able to discuss their welding challenges face-to-face and find customized solutions that fit their specific needs and welding processes."
KUKA will be displaying more of its welding solutions and demonstrating its contributions to the future of automation in the welding and fabricating industries at FABTECH 2018, North Americas largest premier metal fabricating event, in Atlanta from November 6-8.
For more information about KUKA and its involvement in Fronius Technology Day and FABTECH, visit: https://www.kuka.com/
About KUKA
KUKA is a global automation corporation with sales of around 3.5 billion euro and around 14,200 employees. As leading global supplier of intelligent automation solutions, KUKA offers its customers in the automotive, electronics, consumer goods, metalworking, logistics/e-commerce, healthcare and service robotics industries everything they need from a single source: from components and cells to fully automated systems. The KUKA Group is headquartered in Augsburg.
Featured Product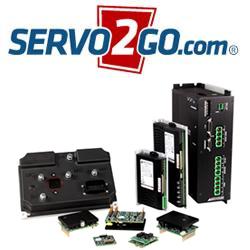 Engineered to drive brushless and brush servomotors in torque, velocity or position mode, Servo2Go.com offers a broad selection of servo drives in a wide range of input voltages and output power levels.