KUKA will demonstrate how automated welding, deburring and cleaning systems meet Industry 4.0 standards at North Americas largest metal fabricating event in Atlanta
KUKA, a global supplier of intelligent automation solutions, will be demonstrating its robotic automation capabilities for the welding and fabrication industries at FABTECH 2018 in Atlanta from November 6-8. FABTECH is North Americas largest premier metal fabricating event, offering educational sessions from industry experts as well as access to leading industry suppliers and solutions.

Attendees can visit KUKAs booth #C-13402 to view a series of demonstrations, including innovative collaborations with the advanced manufacturing leader and KUKA Systems Partners RSTG, KC Robotics and Visual Components, as well as get a peek at a new KUKA Standard Solution welding cell. There will be a team of KUKAs application experts on hand to discuss which solutions can help attendees increase production flexibility and efficiency, while ensuring a safe working environment. The solutions on display include:
KR 6 R700 sixx: Known for its high speeds and precision, the KR 6 R700 sixx is the ideal tool for all material handling and removal processes. It is equipped to handle streamlined contours, with an internally routed energy supply system and simple gripper integration for work in confined spaces. Available in a number of variants - splash-proof, cleanroom or hygienic machine - this low maintenance robot is perfect for harsh environments.
KR 8 R2100 CYBERTECH arc: With a compact and streamlined design that promises high speeds and precise motions, the KR CYBERTECH robot is suitable for handling large components, machining, assembly, palletizing and arc welding. It offers low space requirements and the choice between installation on the floor, ceiling or wall, or even installed at a certain angle.
KR 16 L6: Equipped for maximum versatility and flexibility, the KR 16 L6 is ideal for all space-saving, cost-effective system concepts. With a special arm extension of 300 mm, expanding the work envelope to a diameter of 4 m, this robot is ideal for bridging large distances.
KUKA Standard Solution Mini Cell: Combining a small production foot print with a unitized frame thats easy to move and implement, the Mini Cell provides maximum production versatility throughout the welding manufacturing environment without impacting existing processes. As with all KUKA Standard Solutions, the Mini Cell comes equipped with solid steel wall construction built to the highest industry safety and durability standards.
KR 60: This optimized and integrated eco-friendly modular system utilizes recycled C02 for non-aqueous cleaning. Fully integrated for small or large surfaces areas, this solution can be combined with other technologies, like plasma and flame treatment, to increase efficiency.
KR AGILUS robot: The pre-engineered, fully automated finishing cell features simplified CNC control of process parameter for quality and repeatability in grinding, deburring, sanding and polishing. The cell reduces dependency on and liabilities from inconsistent quality and throughputs, extensive training and more.
For more information about FABTECH 2018, visit: https://www.fabtechexpo.com/
For more information about the solutions KUKA will display at booth #C-13402, visit: https://www.kuka.com/
About KUKA
KUKA is a global automation corporation with sales of around 3.5 billion euro and around 14,200 employees. As leading global supplier of intelligent automation solutions, KUKA offers its customers in the automotive, electronics, consumer goods, metalworking, logistics/e-commerce, healthcare and service robotics industries everything they need from a single source: from components and cells to fully automated systems. The KUKA Group is headquartered in Augsburg.
Featured Product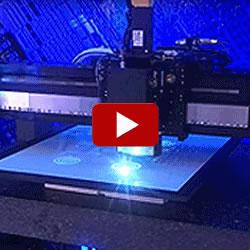 Hexapod micro-motion robots are based on a very flexible concept that can easily solve complex motion and alignment problems in fields including Optics, Photonics, Precision Automation, Automotive, and Medical Engineering.