Cape data shows drones key for keeping pace with increasing safety concerns, education critical for driving widespread adoption
Cape, the leading cloud platform for drone telepresence and data management, today announced new, national data that shows Americans increasing expectations of public safety agencies in light of growing safety concerns. Among the findings, the report revealed that nearly three out of four Americans support law enforcements use of drones to improve community safety. The study, Superheroes in the Sky, also uncovered a major gap in consumer drone knowledge today, and the impact of education on driving support and adoption in the U.S.

"Safety concerns are on the rise and consumers expect their local law enforcement and public safety agencies to leverage the very best tools and technology to keep them safe," said Chris Rittler, CEO of Cape. "Today, drones are among the most powerful tools for providing law enforcement and first response agencies with access to the aerial visibility and intelligence needed to ensure the safety of first responders, local residents and visitors. Americans understand that technology, responsibly used, will increase safety for them and their communities.The agencies that fully leverage these critical tools will be leading the way when it comes to keeping our country safe."
The study uncovered the influence of the perception of safety in nearly every facet of life, with consumers citing safety as a key consideration when choosing where to live (95%), where to vacation (93%) and which public events to attend (82%). Whats more, recent domestic terrorist attacks have heightened safety concerns, with 69% agreeing the attacks have increased their concern about safety when attending public events. In fact, Americans are now two times more likely to avoid traveling to certain U.S. vacation destinations than foreign destinations due to safety concerns.
Increased Expectations Demand Improved Technology Investments
These rising concerns are impacting consumers expectations of law enforcement and the resources used to protect and serve. Today, 93% of consumers say they expect law enforcement to be present and visible in and around town. In the event of an emergency, 89% expect law enforcement and first responders to be able to reach them quickly, with 85% expecting them to be able to access and gain total control of any area, regardless of terrain.
As a result, citizens are demanding increased investment in improved public safety tools and technology, with 84% of Americans saying they expect local law enforcement agencies and first responders to leverage the best possible technology and tools to ensure their safety. In fact, citizens rank the investment in local public safety tools as the most important area for city budget allocation.
Most notably, the study revealed existing widespread support of drone use for public safety, with 71% of Americans saying they support the use of drones for law enforcement, and 62% revealing they would feel safer if drones were used in their communities.
Building Community Support With Transparency & Education
While Americans are ready to embrace drones as a tool for improving public safety, the study uncovered a major gap in consumer drone knowledge today, with 55% of Americans admitting they know very little about drones, and 76% saying they view them as toys.
But after being educated on the impact of drone integration in one Mexican city, support increased significantly, with 94% of Americans saying they believe drones have the ability to improve public safety. Additionally, after education, consumers were 26% more likely to say the use of drones in their community would make them feel safer.
As additional agencies across the country turn to drones to improve the safety of their officers and communities, and drive internal operations and efficiencies, the study underscores the critical role that communication and education will play in driving consumer support. Respondents agreed that better education (84%) and transparency (88%) about drone use and impact would make them more comfortable with the tools being used by first responders.
"Drones are a powerful and innovative resource for officers to gain a comprehensive understanding of the situation at hand, and to better assess unknown environments before our team arrives on the scene," said Roxana Kennedy, Chief of Police in Chula Vista, California, where Cape-enabled drones are integrated into daily operations, acting as first responder for more than 10 hours per day to help drive operational efficiencies and improve safety.
For additional study findings and to learn more about how public safety agencies around the world are improving operations and safety through drone integration with the help of Cape Aerial Telepresence™, visit https://www.cape.com/superheroes-in-the-sky.
About Cape
Cape unlocks the full potential of commercial drones, giving companies all of the benefits with none of the traditional hassle. Every day, Cape users log in to the Cape Aerial Telepresence™ platform, connect to physical drones around the world, and safely conduct flights with remote visibility to capture live, high-resolution video. The only cloud-based system for drone telepresence and data management, Cape provides secure, real-time visualization that increases productivity and operational efficiency and improves safety. Since its founding in 2014, Cape has been a leader in software for drone usability, and the trusted drone software solution for a wide range of use cases, from construction and public safety to oil & gas and agriculture. More than 100,000 Cape-enabled drone flights have been completed to date. For more information about Cape, please visit http://www.cape.com.
Featured Product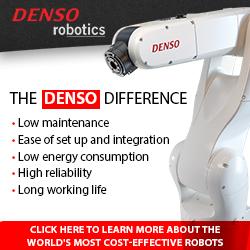 DENSO is the world's largest manufacturer - and user - of small assembly robots, employing over 17,000 of its robots in its own facilities. Over 77,000 additional DENSO robots are used by other companies worldwide. The compact, high-speed robots are used in traditional manufacturing sectors, as well as in advanced-technology applications in the medical, pharmaceutical and life sciences industries. Learn more about DENSO Robotics