2F-85 & 2F-140 Adaptive Grippers gain greater robustness, safety, and customizability
Quebec City, November 8, 2018—Robotiq has released the next generation of the worlds best-selling grippers for collaborative robots: the 2F-85 and 2F-140. Both models feature many new updates, while retaining the same key benefits that have inspired thousands of manufacturers to choose them since their launch 6 years ago.

The new Adaptive Grippers are less exposed to factory air, dust, and fluids. Their finger bases have been redesigned to simplify fingertip changeover and ensure a reliable grip. The overall design is smoother and rounder, with every sharp edge removed. Each one also includes an accessories holder near the base. The new 2F-85 and 2F-140 are connected to Universal Robots safety function, making them more collaborative than ever.
"We kept the basics of our winning recipe, but improved the final taste," explains Robotiq CTO Jean-Philippe Jobin. "Our patented finger design, which enables both internal and external parallel gripping, as well as a unique encompassing grip mode, is key to making these grippers the most flexible on the market. This launch builds on the release of our Hand-E Gripper in June. Manufacturers can now choose the best up-to-date Robotiq Adaptive Gripper for their needs."
The 2F-85 remains the top choice for applications involving heavy objects and high pinch force, while the 2F-140 is ideal for picking objects of almost any size and shape. Finally, Hand-E is perfect for high-precision tasks and harsh industrial environments.
Featured Product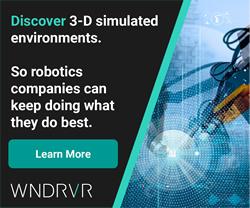 Advances in AI and deep machine learning have ushered in incredible potential for ground-based, aerial, and maritime robotics. Robotics is moving from an opportunity in business and facility operations to a necessity in many industries. As a result, organizations must plan for multi-vendor robots, intelligent traffic flows, storage, and more.