KUKA will demonstrate its diverse robotic educational cells aimed at providing students with a competitive edge in education and opportunities in the STEM job market
KUKA, a global supplier of intelligent automation solutions, will demonstrate its educational printing, milling and welding cells at ACTEs CareerTech VISION 2018 in San Antonio, Texas from November 28 - December 1. ACTEs CareerTech VISION 2018 provides educators, industry representatives and business leaders with professional development and networking opportunities in career and technical education.

Attendees can visit KUKAs booth #221 to view a series of demonstrations from the KUKA Robotics KORE Program, including innovative collaborations with the advanced manufacturing leader and KUKA System Partner RSI. The KUKA Robotics KORE Program provides hands-on educational robot solutions for high schools, community colleges, universities, and technical centers to further educate STEM students and teach operational skills, fundamentals and control technology programming using real robotic hardware.
There will be a team of KUKAs application experts on hand to discuss which solutions can help attendees provide students with real-world robotic printing, milling and welding education for the classroom or production floor. The solutions on display include:
KUKA KORE ready2_print Education Cell: Equipped with an automatic tool setter and easy to use operator interface, the ready2_print cell is compatible with a wide range of soft materials, including clay and wax. Each modular cell combines hands-on education with real-world, robotic printing applications to shorten the learning curve associated with the acquisition of programming and operational skills.
KUKA KORE ready2_mill Education Cell: This affordable and versatile cell lends itself equally to both the educational and manufacturing industries, delivering hands-on robotic milling training with a variety of soft materials, including wood, foam and plastic. Each turn-key cell combines a compact design with effortless mobility to deliver a flexible solution that can be quickly moved and implemented throughout your training or production environment.
ready2_ educate_KORE Welding Cart: The welding care comes complete with KUKAs KR 6 R700 AGILUS robot, Miller Electrics Auto Continuum 350 Welding Power Supply and Tregaskiss torch. Additionally, it comes with course curriculum including welding application and exercise equipment.
For more information about ACTEs CareerTech VISION 2018, visit: https://www.careertechvision.com
For more information about the KUKA Robotics KORE Program and the cells displayed at booth #221, visit: https://www.kukakore.com
About KUKA
KUKA is a global automation corporation with sales of around 3.5 billion euro and around 14,200 employees. As leading global supplier of intelligent automation solutions, KUKA offers its customers in the automotive, electronics, consumer goods, metalworking, logistics/e-commerce, healthcare and service robotics industries everything they need from a single source: from components and cells to fully automated systems. The KUKA Group is headquartered in Augsburg.
Featured Product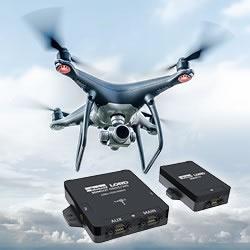 The C-series high performing inertial sensor package provides an OEM form-factor that is optimized for size and weight in Off Highway, Unmanned Ground Vehicles/Mobile Robots and Unmanned Aerial Systems. It's compact and low-profile anodized aluminum housing can be connected directly to a printed circuit board using a UART header or a Samtec FFSD ribbon cable and 2-56 fasteners.