Broadest Automation Event in North America to Explore How to "Win the Future" with Real-World Solutions and Technology Advances
Automate 2019, North Americas largest showcase devoted to automation industry trends, leading-edge technology and business innovation, returns to Chicagos McCormick Place April 8-11. Produced by the Association for Advancing Automation (A3), Automate hosts many of the industrys leading manufacturers and system integrators of robotics, machine vision, metrology, software, safety, motion control and motors.

Highlights of the biennial show and conference include:
Examples of how the latest innovative automation solutions, including robots, machine vision and motion control, can solve real-world challenges.
The $10,000 Launch Pad Startup Competition, which seeks out automation-focused companies that have launched in the last five years; generated less than $2 million in revenue and are not affiliated with a larger group. Call for participants will be announced soon.
Small group discussions in the theater covering a wide variety of topics important to the automation industry.
Win the Future
Focused on the theme of Win the Future, Automate 2019 will explore how automation secures a companys success in a technologically fast-paced world where artificial intelligence (AI), Industrial Internet of Things (IIoT), smart manufacturing, collaborative robots (cobots), machine vision and other innovations are rapidly shifting the dynamic of todays manufacturing. Automate attracts more than 20,000 attendees, including corporate decision makers across the United States and more than 80 countries as well as press and analysts.
"Automate attendees come seeking ways automation can help improve productivity and product quality, reduce costs, speed time to market and augment their workforce," said Jeff Burnstein, A3 president. "Collaborative and mobile robots, along with AI, machine vision and motion control, are among the many technologies that will be showcased at Automate, all helping decision makers identify ways automation can fill workforce gaps by working alongside employees who are focused on more critical tasks. These innovations better equip companies to improve their competitive positioning in todays global market."
More Features of Automate 2019 Show & Conference
In addition to the highlights previously mentioned, Automate 2019 will include:
The Engelberger Robotics Awards presented in the categories of Leadership and Education
Full integration with the 51st International Symposium on Robotics-Americas (ISR), a prestigious event that brings together thought leaders from around the globe to discuss the latest applications and research in the field of robotics and other automation technologies
All coursework and exams required for the AIAs Certified Vision Professional (CVP) basic and advanced certifications and Motion Control & Motor Associations (MCMA) Certified Motion Control Professional (CMCP) training. Interested attendees can visit Automate 2019 to register.
One Badge, Two Shows
Automate 2019 attendee badges also gain admittance to ProMat 2019, held at the same location. ProMat is the largest exposition for material handling, logistics and supply chain professionals in North America, including over 950 exhibitors.
Register Today
Attendee registration for both the expo and conference, with free access to the show floor, is now open. Prospective exhibitors can find more information on exhibition opportunities on the event website. Press passes and exhibitor news are available at the Automate press site.
About Association for Advancing Automation (A3)
The Association for Advancing Automation is the global advocate for the benefits of automating. A3 promotes automation technologies and ideas that transform the way business is done. A3 is the umbrella group for Robotic Industries Association (RIA), AIA - Advancing Vision + Imaging, Motion Control & Motor Association (MCMA) and A3 Mexico. RIA, AIA, MCMA and A3 Mexico combined represent over 1,200 automation manufacturers, component suppliers, system integrators, end users, research groups and consulting firms from throughout the world that drive automation forward. For more information, visit: A3, RIA, AIA, MCMA, A3 Mexico.
Featured Product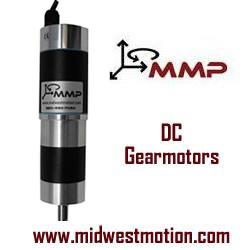 Midwest Motion Products, Inc. (MMP), is a well-established, healthy, & growing Family Owned Business, founded in 2001. MMP specializes in cost-effective standard DC Gearmotors, Motors, Controls, and ancillary equipment. Known world-wide for our "Lightning Fast" delivery capabilities, you can have a Standard Planetary or Right Angled DC Gearmotor BUILT and SHIPPED, often on the very same day you call. Offering Brushed and Brushless designs, with winding voltages ranging from 12 VDC to 120 VDC, we can deliver your "Robust & Reliable" samples within HOURS, instead of weeks, or even months.