Hollar utilizes inVia's Robotics-as-a-Service warehouse automation solution to ease warehouse move while continuing to optimize the goods-to-person fulfillment process
inVia Robotics, the provider of the next generation of robotics warehouse automation solutions for e-commerce fulfillment centers, today announced Hollar, which first deployed its inVia Picker robots and cloud-based Robotics-as-a-Service (RaaS) management system in February, will be moving its warehouse and inVia warehouse automation system from California to Ohio.

Hollar, the online destination for cool products at deals starting at $1, is moving its warehouse to Cincinnati, OH in January to better serve their customers and manage shipping costs and logistics. The warehouse will be operational immediately within the new space, even while recruiting for new warehouse staff is underway, due to the quick set up of the inVia Picker robots. inVia Robotics, developer of the first economical goods-to-person solution offered as "Robotics-as-a-Service," makes warehouse automation turnkey through integrated robots, software and monitoring that can be fully deployed in days without disruption to existing infrastructure. This allows the Hollar team to easily integrate robots within their new warehouse even if the layout is different from that of the current warehouse.
"Moving our warehouse operations across the country has been made simpler by the inVia Picker robots," said Octavio Reyes, Director of Operations and Systems of Hollar. "Establishing a new warehouse means that layout, staff, and procedures must change, but our throughput efficiency will remain the same because of the adaptability of inVia's Robotics-as-a-Service platform, ultimately allowing us to ensure we provide the best possible customer experience for our shoppers."
The inVia Picker works collaboratively with Hollar's operators to skillfully pick and move items, automating the storage and retrieval process and minimizing operator risk exposure. In the initial deployment, Hollar has increased productivity 300%.
"Establishing warehouse function in a move across the country can be time-consuming and costly for a company aiming to ease their logistics' burden," said Lior Elazary, founder and CEO of inVia Robotics. "inVia's innovative RaaS technology and adaptable robot set up allows our customers the flexibility they need to move or start new warehouses with ease. We're thrilled to continue to support Hollar in deploying our mobile warehouse robots and management system to streamline the company's logistics workflow without impacting its existing ecosystem."
The inVia Robotics warehouse automation solution is available to be deployed nationally across warehouses and distribution centers of all sizes.
About inVia Robotics
inVia Robotics is a Southern California robotics company founded in 2015 that provides the next generation of warehouse automation solutions. We are the developer of the first economical goods-to-person solution offered as "Robotics-as-a-Service." inVia is powering the future of warehouse productivity without disrupting the ecosystem of a business's operations.
About Hollar
Hollar is the ultimate mobile destination for cool products at incredible deals starting at $1. Featuring thousands of items from toys and electronics to home, beauty and apparel - including unique curated gift and party collections - Hollar is all about the joy of discovery. Find Hollar on iOS, Android and the web (www.hollar.com).
Featured Product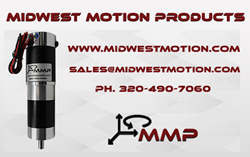 MMP specializes in supplying high-quality Brushed & Brushless DC Motors & Gearmotors for Robotics and Automation Equipment with a wide range of motor windings and gear ratios. With an impressive track record of more than 8,000 released DC Gearmotors designs and over 2,000,000 individual part numbers, we are renowned for our ability to handle large-scale orders. Due to our huge on-hand inventory, we are also well known for lightning-fast delivery of our standard products. We take pride in our dedicated customer service and our team of knowledgeable sales and engineering experts who are ready to assist you with custom design solutions tailored to your specific application. Additionally, we also offer a wide range of complimentary products, such as DC Motor Controls, DC Linear Actuators, AC-DC power Supplies, and DC Servo Amplifiers and others.