Automation Networks is a Technology company providing a wide variety of quality Industrial Networking products for the most popular Ethernet & Fieldbus Industrial Networks. These include Allen-Bradley Ethernet CSP, Ethernet/IP, DeviceNet, Data Highway Plus 1784-U2DHP (DH+); Siemens Profibus & Profinet; Schneider Electric Modbus RTU & Modbus TCP/IP. Other Industrial protocols & Networks includes CC-Link, BACnet MS/TP.
The Automation Networks ANC-100e is a pocket-sized, high performance, Industrial Rated Ethernet DH+ Converter.

Features include Ease of Configuration via Web Interface and DH+ Auto Polarity Detection and DH+ Auto Baud Rate Detection for RSLINX/LOGIX PLC Programming.
The ANC-100e communicates with all SCADA, HMI, PLC programming packages with direct Ethernet/IP access to the DH+ network and stations. This includes RSLINX/LOGIX Classic & Enterprise Controllogix Driver, Wonderware DAServer, Citect Ethernet/IP, and Kepware Controllogix Ethernet/IP Drivers.
The enhanced ANC-100e gateway converter is useful for 1784-U2DHP PLC programming, accessing and monitoring DH+ network from a PC computer.
Highlights of ANC-100e:
*Compatible with all PLC Programming/HMI/SCADA 1784-U2DHP packages including all older versions of RSLINX Classic and latest RSLINX Enterprise.
*Easy setup: Driver selection is ControlLogix Ethernet driver.
*Economical: Full function Ethernet-to-DH+ converter listed at $1,195 USD List.
*Fast Ethernet/IP Connection: Using the RSLINX Controllogix Ethernet Driver.
*DH+ Speeds: Reliably supports all DH+ data rates - 57.6, 115.2 and 230.4 Baud on communication length exceeding standard requirements.
*Auto Detect: Default Auto Baud Rate and Auto Polarity detection.
*Size: "Pocket-sized" convenience with Desktop and Din Rail options.
*Easy DH+ connection: 3-pin Phoenix Blue Hose connector option or direct 8-pin mini din cable connection to PLC port. (8 pin mini din cable included).
AUTOMATION NETWORKS & SOLUTIONS LLC
8300 FM 1960 West, Suite 450
Houston TX USA 77070
Tel: (281) 994 7775 / Fax: (281) 754-4299
Toll-Free: (855) 810-6790
Email: contactus@automation-networks.com
Featured Product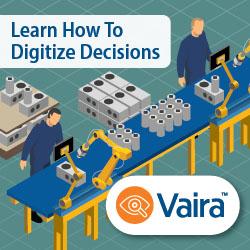 Pleora's AI Gateway simplifies the deployment of advanced machine learning capabilities to improve the reliability and lower the cost of visual quality inspection.