Automation Industry's Most Prestigious Honor to be Presented at Automate 2019 in Chicago on April 10
ANN ARBOR, MI - March 6, 2019. The Robotic Industries Association (RIA), the industry's North American trade organization, today announced the winners of the 2019 Engelberger Robotics Awards, the world's most prestigious robotics honor. At a special dinner in conjunction with the Automate 2019 Show and Conference in Chicago on April 10, RIA will honor Catherine Morris, group leader and director of automotive sales at ATI Industrial Automation and long-time RIA board member and former chairperson; and Dr. Howie Choset, robotics professor at Carnegie Mellon University and co-founder of the Advanced Robotics for Manufacturing (ARM) Institute.

The award is named for Joseph F. Engelberger, known throughout the world as the "father of robotics." Engelberger was founder and president of Unimation, Inc., the world's first industrial robot manufacturer. The Engelberger Robotics Awards are presented to individuals for excellence in technology development, application, education and leadership in the robotics industry. Each winner receives a $5,000 honorarium and commemorative medallion with the inscription: "Contributing to the advancement of the science of robotics in the service of mankind." The awards recognize outstanding individuals from all over the world. Since the award's inception in 1977, it has been bestowed upon 128 robotics leaders from 17 different nations.
2019 Engelberger Robotics Awards Winners
Catherine Morris is honored in the category of Leadership. "I can think of very few people in the history of the robotics industry who have been as committed to the growth of our industry as Catherine," said Jeff Burnstein, RIA President. "In addition to helping build ATI into a global leader in robotic accessories and robot arm tooling, she has been a tireless advocate of robotics and the important role that groups like RIA play within it. In fact, over the past two decades she's found time to hold virtually every key position in our trade group, from Membership Committee Chair, to Automate Show Committee Chair, to overall Chair of RIA (the first and only woman to hold that role to date), and now serves as a board member of our parent group, the Association for Advancing Automation. She's also been an outstanding role model and mentor for women in robotics -- getting more women involved in robotics will be a key to the long-term success of the industry. In her role at ATI since 1995, she has positively impacted the success of robotics end users, robot manufacturers, and system integrators through her high degree of process and mechatronic knowledge."
Dr. Howie Choset will receive the award for Education. "In addition to being an inspiring professor in the Robotics Institute at Carnegie Mellon, Dr. Choset has lead key research efforts to help solve significant problems in diverse areas such as surgery, manufacturing, infrastructure inspection and search rescue," Burnstein said. "Additionally, he has co-founded several companies, including Medrobotics for surgical system, Hebi Robotics for modular robots, and Bito Robotics for autonomous guided vehicles. His FDA-approved surgical snake robot has been in use in the U.S. and Europe since 2015. Add to that his role as a co-founder of the ARM Institute that is aimed at advancing technology development and education for robotics in manufacturing, and his role as a founding editor of the journal Science Robotics, and you see that Dr. Choset is well-deserving of our industry's highest honor."
Award Dinner
The award dinner will be held on Wednesday, April 10 from 5:30 p.m. to 8 p.m. at the McCormick Place - Vista Ballroom. Tickets for the event may be purchased when registering for the Automate 2019 show and conference.
About Robotic Industries Association (RIA)
Founded in 1974, RIA is a not-for-profit trade association dedicated to improving the regional, national and global competitiveness of the North American manufacturing and service sectors through promotion and enhancement of robotics and related automation. RIA represents over 550 robot manufacturers, system integrators, component suppliers, end users, consulting firms, research groups, and educational institutions. The association hosts a number of events, including the biennial Automate Show & Conference (April 8-11, 2019 in Chicago), the International Robot Safety Conference (October 15-17, 2019 in Indianapolis), the Collaborative Robots, Advanced Vision & AI Conference (CRAV.AI; November 12-13, 2019 in San Jose, CA), and the A3 Business Forum (January 13-15, 2020 in Orlando, FL). RIA also provides quarterly robotics statistics and has a content-rich website, Robotics Online. For more details on RIA, visit www.robotics.org or call 734/994-6088.
About Association for Advancing Automation (A3)
The Association for Advancing Automation is the global advocate for the benefits of automating. A3 promotes automation technologies and ideas that transform the way business is done. A3 is the umbrella group for Robotic Industries Association (RIA), AIA - Advancing Vision + Imaging, and Motion Control & Motor Association (MCMA). RIA, AIA, and MCMA combined represent over 1,200 automation manufacturers, component suppliers, system integrators, end users, research groups and consulting firms from throughout the world that drive automation forward. For more information, please visit our websites: A3 - www.A3automate.org. RIA - www.robotics.org. AIA - www.visiononline.org. MCMA - www.motioncontrolonline.org. A3 Mexico - www.a3mexico.com.mx/
Featured Product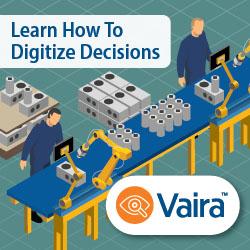 Vaira™ helps manufacturers digitize, automate, and upgrade error-prone manual processes and decisions to boost productivity and increase profits by helping humans make decisions consistent, reliable, and traceable. The camera-based solution is powered by a scalable suite of shop floor-ready apps built on proven machine vision and AI expertise for frontline manufacturing operations, with two-way integration to resource planning tools to help drive continuous analysis, insight, and improvements. Start digitizing immediately, streamlining processes customized to your unique requirements and reduce errors that lead to costs, delays, and quality concerns.