Automate, 8-11 April 2019, Booth #8114
OSLO, Norway, March 6, 2018 - Zivid, the 3D machine vision camera company, will exhibit at Automate for the very first time with newly appointed imaging solutions partner MoviMED (Booth #8114). The company will showcase the Zivid One 3D color camera integrated with a UR5 Universal Robot in a live demonstration of high-speed part inspection and quality control.

Using an advanced technique of time-coded structured light projection, Zivid's real-time, high definition, color 3D cameras capture high-quality point cloud XYZ and RGB data to equip Industry 4.0 robotic and industrial automation systems with a human-like vision capability. With a 2.3 MPix image size, an acquisition rate of 13 Hz and unique HDR capabilities the cameras produce vivid high definition 3D color images of challenging semi-shiny, partly reflective and dark objects.
Complementing the live demonstration, Zivid will also be featured in the Automation Solutions & Innovations track of the exhibition conference. In a joint session, 'The Latest Advances in 3D Vision', on Monday, April 8, 2:30pm-4:30pm, Zivid's VP of Sales and Marketing, Americas, Raman Sharma will give a presentation entitled, 'Robot Automation Using Human-Like 3D Vision'. Sharma's 30-minute presentation will reveal how Zivid's ground-breaking approach to 3D image capture effectively removes long-endured compromises between system accuracy and speed. And designed to match the specific needs of a broader spectrum of robotic and industrial automation systems, the company's new Zivid One Plus (Small, Medium and Large) camera range will also be reviewed.
To reserve time with the Zivid time during Automate, visit http://info.zivid.com/automate2019
Availability
The Zivid One Plus 3D color cameras are available via distributors and system integration partners, or directly from sales@zivid.com.
Follow Zivid Labs
• LinkedIn at https://www.linkedin.com/company/zividlabs/
• Twitter at https://twitter.com/zividlabs
• Facebook at https://www.facebook.com/zividlabs
Stay in touch with Zivid
Øyvind Borgan, Marketing Director, info@zivid.com
About Zivid
Zivid is a market-leading provider of 3D machine vision cameras and software for next generation robotics and industrial automation systems.
Its Zivid One and Zivid One Plus products are regarded as the world's most accurate real-time 3D color cameras and bring human-like vision to the smart factories and warehouses of Industry 4.0.
With more than two decades of in-house R&D and in-depth expertise in optical sensors, 3D machine vision hardware and software, Zivid enables customers to boost efficiency and productivity in a range of applications including de-palletizing, bin-picking, pick-and-place, assembly, packaging and quality control.
The Zivid One 3D color camera has received numerous awards for its technical features, quality of data (QoD), and design implementation. Awards include "Top Innovation Award" by inVISION Magazine, "Gold Innovators Award" by Vision Systems Design, Red Dot's "Product Design" award, and the Research Council of Norway's prestigious "Innovation Award". To discover how Zivid is shaping the future of 3D machine vision visit www.zivid.com.
Featured Product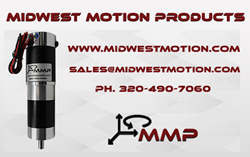 MMP specializes in supplying high-quality Brushed & Brushless DC Motors & Gearmotors for Robotics and Automation Equipment with a wide range of motor windings and gear ratios. With an impressive track record of more than 8,000 released DC Gearmotors designs and over 2,000,000 individual part numbers, we are renowned for our ability to handle large-scale orders. Due to our huge on-hand inventory, we are also well known for lightning-fast delivery of our standard products. We take pride in our dedicated customer service and our team of knowledgeable sales and engineering experts who are ready to assist you with custom design solutions tailored to your specific application. Additionally, we also offer a wide range of complimentary products, such as DC Motor Controls, DC Linear Actuators, AC-DC power Supplies, and DC Servo Amplifiers and others.