Airborne, Gunnar and Schmalz take their business partnership to the next level presenting the integrated automated ply cutting and kitting solution for composites live at JEC World 2019.
The Hague, March 8, 2019 - This year at JEC World 2019 Airborne shows the integrated automated ply cutting, handling, stacking and sorting solution for composites and advanced materials live at the Aerospace Planet (Hall 6, U31). The partnership with Gunnar and Schmalz offers fully integrated systems for the composite manufacturing industry, enabling maximized composite material utilization with maximum flexibility, high reliability and digital traceability.

As OEM's and suppliers in the Aerospace industry are searching for ways to optimise their current production lines, the time pressure for coming up with a solution leaves manufacturers struggling to keep pace. The manual processes are slowing companies down. On top of that, large companies like Airbus and Boeing have pushed their suppliers during the last couple of years to cut cost, reducing suppliers' profits. Therefore, manufacturers must look at new ways to take their production optimisation to the next level: by implementing new and innovative ways such as automated and digital manufacturing.
A flexible and digital workflow for Aerospace composite manufacturing
To show these new ways of manufacturing, Airborne and its technology partners Gunnar and Schmalz, present the Automated Kitting system, working LIVE at the Aerospace Planet of JEC World 2019. The translation from nesting files to machine controls and sorting optimisation is fully automated by Airborne's proprietary algorithms and works on-the-fly. Airborne also has a partnership with Plataine to offer an integrated solution for both dynamic nesting and Automated Kitting.
Ensuring full digital tracking of the sorting
The Automated Kitting solution ensures full digital tracking of the sorting and eliminates any mistakes. At the JEC World Aerospace Planet (Hall 6, U31) visitors can experience the entire value chain shown in one combined manufacturing robot-cell.
Marcus Kremers, CTO of Airborne, says: "This system has three important advantages for those implementing it into their production. It is fully automated, saving labour cost. It is fully digital, which saves a lot on ensuring material traceability and quality control ensuring no sorting mistakes are made. And it has a fully automated workflow, giving you maximum flexibility in operation without losing control. In a running factory, demand can change every day. This system allows you to follow the daily needs of operations and saves on material waste. And without head-aches, as the system solves it for you!"
Integrated solutions to reduce cost drastically
Airborne's expertise is the development and supply of automated and digital composite manufacturing solutions whereas Gunnar's core competence is the process of composites cutting, including the peripherals of material feeding and nesting. Schmalz as the market leader in vacuum automation completes the range of services with efficient vacuum gripping systems. Last year the three companies joined strengths and proclaimed the ambition to enable an overall automated cutting solution to the global composites market, offering their customers significant cost reduction. Plataine is an expert is digital manufacturing and IoT, and provides advanced nesting software. This software is complementary to the Automated Kitting system and enables full dynamic nesting, capturing the potential of reducing material waste and maximising operational efficiency.
From March 12-14th visitors can experience how a fully automated kitting process works. The Aerospace Planet is to be found in Hall 6, U31.
About Airborne:
Founded in 1995 and headquartered in The Hague, the Netherlands, Airborne is a recognized technology leader in advanced composites, focused on the automation and digital manufacturing of composites for the aerospace, automotive, marine, industrial and consumer electronics industry. Airborne has 130 highly qualified employees working at Airborne's facilities in the Netherlands, and the United Kingdom. Customers of Airborne include companies such as Airbus, GKN, GE, TATA and Thales. More information: www.airborne.com
Featured Product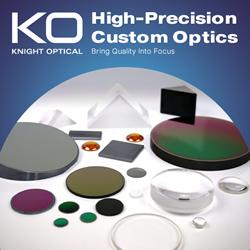 In the era of Industry 4.0, automation and machine learning drive the future. Knight Optical stands at the forefront, collaborating globally to supply precision optical components that power the robotics and automation sector. From UAVs, drones, and robotics to machine vision, LiDAR-driven car sensors, and renewable energy, our optics empower innovation. Optical components play an important role within the industry, including: Optical windows and domes safeguard systems in unmanned vehicles while preserving the field of view for cameras. Infrared lenses with aspheric surfaces elevate thermal imaging. Optical filters excel in machine vision, with colour glass, interference, and dichroic filters in our stock. Knight Optical provides stock components and custom solutions made to your exact specs. With every component undergoing rigorous metrology and QA checks before shipment, you are sure to experience true precision, innovation, and assurance.