The fifth generation Pallet Jack is the latest of many innovations Vecna has pioneered over the last year, including Pivot.al – the world's first AI-driven orchestration engine.
Vecna Robotics (Vecna), a leader in autonomous logistics solutions, continues to keep their customers one step ahead of the competition by unveiling fifth generation autonomous pallet handling. Vecna's new Pallet Jack will be the first self-driving vehicle to include autonomous pallet identification, lifting, and pickup. The model also features an OEM agnostic base. Vecna's Pallet Jack is the latest self-driving vehicle in an extensive fleet that features mobile tuggers, conveyors, storage and retrieval systems.

The enhanced software delivers faster, smoother pickups across a broader variety of pallets and goods, including pallets with bottom boards and partial pallets. This new technology is a further extension of Vecna's cutting-edge Autonomy Stack. Vecna's Autonomy Stack instills independence in all its vehicles with dynamic obstacle avoidance, topological reasoning, local decision making, high-confidence navigation, and self-learning capabilities. The Autonomy Stack enables Vecna vehicles to learn new skills as they work through diverse levels of demands, seasonal needs, and market changes - creating a constant cycle of improvement and maximizing productivity no matter the situation.
The fifth generation Pallet Jack is the latest of many innovations Vecna has pioneered over the last year, including Pivot.al - the world's first AI-driven orchestration engine.
Pivot.al coordinates workflows and tasks in real-time based on the capabilities, location, and availability of both humans and robots in operation. Pivot.al reallocates human and vehicle assignments based on the level of demand and shares information across people, robots, and associated systems.
"The improved Pallet Jack is the newest product in our plan to advance warehouse automation," said Daniel Theobald, CIO of Vecna Robotics. "This is another step on our roadmap to fully automate pallet handling, to include vertical operations and unloading as we expand our industry-leading capabilities and commitment to providing customers sustained long term solutions to all their material handling needs."
Learn more about Vecna Robotics' Pallet Jack and Pivot.al, as well as their entire fleet of self-driving vehicles at ProMat 2019. Vecna will be displaying a wide range of vehicles, including its autonomous Tugger and Pallet Jack at booth #S5483.
About Vecna Robotics
Vecna Robotics delivers Automated Material Handling, Hybrid Fulfillment, and Workflow Optimization solutions featuring self-driving vehicles operated by a learning autonomy stack. Our solutions deliver value for customers in the distribution, warehousing, and manufacturing sectors. Our technology goes beyond traditional automation and focuses on maximizing human and robot capability to create fulfilling jobs, increase productivity, and encourage innovation.
For more information visit www.vecnarobotics.com and pivot.al
Featured Product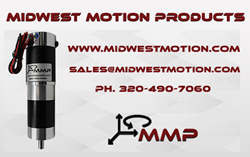 MMP specializes in supplying high-quality Brushed & Brushless DC Motors & Gearmotors for Robotics and Automation Equipment with a wide range of motor windings and gear ratios. With an impressive track record of more than 8,000 released DC Gearmotors designs and over 2,000,000 individual part numbers, we are renowned for our ability to handle large-scale orders. Due to our huge on-hand inventory, we are also well known for lightning-fast delivery of our standard products. We take pride in our dedicated customer service and our team of knowledgeable sales and engineering experts who are ready to assist you with custom design solutions tailored to your specific application. Additionally, we also offer a wide range of complimentary products, such as DC Motor Controls, DC Linear Actuators, AC-DC power Supplies, and DC Servo Amplifiers and others.