New AI-powered solutions from GreyOrange designed for Flexible Automation will be highlighted at ProMat, The Chief Robotics Officer Summit and Automate 2019
ATLANTA - March 15, 2019 - Robotics and warehouse automation company GreyOrange will showcase its new FlexoTM modular sortation system and demonstrate upgraded versions of its Butler and PickPal on April 8-11, at ProMat 2019, the leading trade show for supply chain and logistics.

Today's modern supply chains are under immense pressure to improve productivity as businesses grapple with unpredictable demand and labor shortages to handle omnichannel distribution. The intelligent robotics solutions from GreyOrange address these challenges head on with high-level flexibility in terms of design that helps businesses adapt easily to changes in customer demand and market strategies while controlling costs.
GreyOrange Co-founder and Group CEO Samay Kohli will speak on April 10 at 11:30 am at The Chief Robotics Officer Summit, organized by RoboBusiness. He will discuss how a new generation of robotics for warehousing that optimizes machine learning and AI, delivers the Flexible Automation that modern distribution centers need to maintain a competitive edge. The robotics systems from GreyOrange have the agility to deploy quickly, adapt on the fly to evolving operational demands and unlock new levels of productivity for applications in omnichannel Retail, ecommerce, 3PL and fast-moving consumer goods(FMCG).
At Automate 2019, GreyOrange Boston R&D Labs Director and Head, Andreas G Hofmann will present a session on "Intelligent Robotics for Flexible Supply Chain Automation" on April 10 at 3:30 pm. He will highlight new robotic technologies that address challenging problems in warehouse automation that provide flexibility with a limited set of product morphologies. This allows for addressing rapidly changing warehouse needs while managing product customization costs. Automate is a leading automation solutions event by the Association for Advancing Automation, and is co-located with ProMat 2019.
See the new GreyOrange FlexoTM modular sortation system at ProMat. Flexo enables destination sortation; inbound and outbound, in fulfilment, distribution and logistics centers. Designed for flexibility, Flexo adapts to existing layouts, can easily scale and handle versatile payloads without constraints to future growth. Flexo is easy to deploy and is portable across facilities. Capable of operating 24/7, this system reduces cost per shipment and dependency on additional labor during peaks. Flexo components are designed to allow for fast implementation in as short as 15 days due to its modularity and standardization, and can be easily scaled to handle large peaks.
Meet with Solution Experts and get a hands-on demo of the latest high-performance GreyOrange solutions on April 8-11, at ProMat 2019 in Chicago at Booth S3275. Contact info@greyorange.com. Register at https://www.greyorange.com/event/ProMat-2019
Featured Product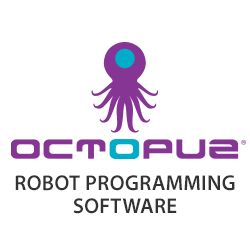 OCTOPUZ makes complex robot programming simple through cutting-edge Offline Robot Programming Software (OLRP) that enables detailed robot operations, complete with machinery and manufacturing components, to be first simulated on a computer, then output for the real world. Within this virtual cell, OCTOPUZ uses built-in machine logic to identify the optimal toolpath trajectory and program the required code for a multitude of industrial tasks. The code is then output for the specific robot brand, for use in the real world.