2018 AIA statistics show nearly 10 percent growth over 2017, with $2.874 billion in sales
ANN ARBOR, MI - March 28, 2019. North American sales of machine vision components and systems that provide vision intelligence to robots and other machines reached $2.874 billion in 2018, an increase of 9.2 percent over 2017 and a new record for the market. According to statistics from the AIA, the industry trade group and part of the Association for Advancing Automation (A3), application-specific machine vision (ASMV) systems led the growth with $1.998 billion in sales in 2018, an increase of 7.8 percent over 2017, followed by smart cameras with $466 million, an increase of 14.2 percent.

Machine vision component markets also set new records in 2018 with $401 million in total sales representing 11.7 percent growth. This increase was driven primarily by component camera sales, which increased 16.2 percent to $219 million, followed by software (8.9 percent to $21 million), optics (8.8 percent to $44 million), lighting (7.9 percent to $77 million) and imaging boards (1.5 percent to $40 million).
"Vision technologies are becoming smarter and smaller to solve the increasingly complex challenges associated with emerging automation applications such as AI-driven bin picking, autonomous vehicles, and advanced inspection technologies," said Alex Shikany, vice president of AIA and business intelligence at A3. "Vision components in everything from cameras to lighting to software must work together seamlessly to provide the visual intelligence that robots and other smart machines require to do their jobs. We're excited to see what new innovations are created in the months and years ahead to make this data collection even simpler and more intuitive."
The Expected Future of Machine Vision
According to AIA's latest survey of industry experts, 80 percent of respondents believe that sales of machine vision components will remain flat or decrease in the next six months. Similarly, 62 percent believe machine vision systems markets will plateau or decrease in the next two quarters. According to Shikany, this predicted stagnation might come from a "slight softening of the manufacturing sector seen in the last quarter of 2018, which showed the PMI dipping to the low 50s and the semiconductor market decreasing." The results are also a reflection of experts' belief that this market is due for a normalization of growth, having posted six straight years of expansion.
Learn More About Machine Vision at Automate 2019 April 8-11 in Chicago
Focusing on the theme of Win the Future, Automate 2019 will explore how automation such as machine vision can secure a company's success in a technologically fast-paced world that is rapidly shifting the dynamic of today's manufacturing. More than 500 vendors, integrators, and other automation companies will demonstrate their solutions on the show floor, with many also sharing expertise in the conference sessions.
The Automate show is free to attend. Register at www.automateshow.com.
About AIA
AIA was established in 1984 to advance the understanding and use of imaging and vision technologies and to drive global expansion and growth through education and promotion. Today, AIA continues its mission and represents some 380 vision suppliers, system integrators, users, researchers, and consulting firms from 32 countries. For more information, please visit www.visiononline.org
About Association for Advancing Automation (A3)
The Association for Advancing Automation is the global advocate for the benefits of automating. A3 promotes automation technologies and ideas that transform the way business is done. A3 is the umbrella group for Robotic Industries Association (RIA), AIA - Advancing Vision + Imaging, Motion Control & Motor Association (MCMA), and A3 Mexico. RIA, AIA, MCMA and A3 Mexico combined represent more than 1,200 automation manufacturers, component suppliers, system integrators, end users, research groups, and consulting firms from throughout the world that drive automation forward. For more information, visit: A3, RIA, AIA, MCMA, A3 Mexico.
Featured Product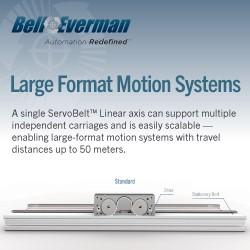 Manufacturing and packaging operations that still depend on manual material or parts handling operations can reap immediate benefits from a type of automation based on long-travel Cartesian robots with custom end-of-arm tooling (EOAT) and advanced sensing capabilities. These robots can support a variety of machines - performing otherwise manual tasks such as machine tending or transferring in-process parts - making long-travel Cartesian transfer robots a major upgrade to processes and operations. Download the White Paper from Bell-Everman