The combination of Energid's Actin adaptive kinematics and collision-avoidance capabilities with ModuleWorks' CAD/CAM software offers a competitive advantage in the development of robotic systems with six axes and above
CAMBRIDGE, Massachusetts (April 2, 2019) - ModuleWorks and Energid Technologies today announced a partnership for a combined software solution that will add Energid's adaptive kinematics and collision-avoidance capabilities to ModuleWorks' optimized toolpath for CAD/CAM robotic systems. ModuleWorks is a leading software component provider for the CAD/CAM industry, and Energid is the provider of Actin, the industry's premier commercial robotic software development kit (SDK) and tasking framework for real-time, adaptive motion control. This partnership will allow developers to get to market faster with differentiated robotic systems for additive manufacturing, welding, machining, CNC routing, and other applications that require control of six axes or more.

"The quantity and diversity of robotic applications is expanding at an incredible rate," said David Plater, Technical Director of ModuleWorks. "Combining the kinematic engine of Energid and the path planning engine of ModuleWorks will allow powerful solutions to be developed for many of these applications."
Energid also realized the significant advantages of collaborating with an industry leader firmly entrenched in the CAD/CAM industry. "Actin is especially well suited to solving complex motion control problems," said Neil Tardella, Energid CEO and co-founder. "Though many of our customers are using Actin to control some of the most complex and challenging robotic systems ever produced, a growing number are traditional automation companies looking to add value and flexibility through higher axis solutions. We were seeking a partner that would complement our offering and give us broader access to this customer base. ModuleWorks, with its industry leading CAD/CAM software, is the perfect partner. We are extremely excited to be working with them."
A major challenge for robotic system developers is how to get the robot to automatically perform a complex task without getting stuck. The flexibility of Actin allows customers to build on the exact motion control capabilities they need to create their own proprietary products. This is an ideal addition to the ModuleWorks range of path planning applications as the combination of these products enables complex applications to be developed quickly and easily.
See Actin in action at the Energid Booth #8925 at Automate 2019, April 8-10, 2019 at McCormick Place, Chicago, IL.
For additional information, contact Kelly Wanlass, (801) 602-4723 or kelly@hughescom.net
About Energid Technologies
Founded in 2001, Energid brings its NASA engineering roots to provide highly sophisticated motion control for industrial, medical, commercial, collaborative, and consumer robotic systems. Energid provides the industry's premier commercial software development kit (SDK) and tasking framework that supports real-time, adaptive motion control. For developers of robotic systems in dynamic environments, on moving platforms, using multiple arms or manipulators, or with unpredictable or varying workpieces or orientations, Energid offers differentiation and dramatically faster time to market.
In 2018, Energid was acquired by Teradyne [NASDAQ: TER], becoming part of its industrial automation group that also includes collaborative robots, autonomous mobile robots, and sensing and simulation software. These innovative automation products are used by global manufacturing and industrial customers to improve quality and increase manufacturing efficiency. Energid continues operations under independent management with headquarters, R&D, and engineering facilities in Cambridge, Massachusetts. For more information, please visit www.energid.com.
About ModuleWorks
ModuleWorks is the leading software component provider for the CAD/CAM industry. With over 170 employees and 800 man years of software development, ModuleWorks' expertise in toolpath creation and simulation is recognized throughout the industry and its software components are integrated in over 500,000 installed seats of CAD/CAM software around the world. From standard products to exclusive development projects, we work closely together with you to bring your own vision of Industry 4.0 to life. Our comprehensive product portfolio and cutting-edge software components enable you to optimize your CAD/CAM solutions and connect to CNC/MTB systems to increase your competitiveness and help you Get There Faster. For more information, please visit http://www.moduleworks.com/.
Featured Product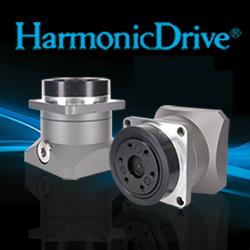 The SHA-IDT Series is a family of compact actuators that deliver high torque with exceptional accuracy and repeatability. These hollow shaft servo actuators feature Harmonic Drive® precision strain wave gears combined with a brushless servomotor, a brake, two magnetic absolute encoders and an integrated servo drive with CANopen® communication. This revolutionary product eliminates the need for an external drive and greatly simplifies wiring yet delivers high-positional accuracy and torsional stiffness in a compact housing.