Easy integration and reliability for mobile platforms, autonomous carts, and cobots
MINNEAPOLIS, MINN., APRIL 8, 2019 - Premiering at ProMAT 2019, SICK is launching its newest ultra-compact safety laser scanner, nanoScan3. This product combines smart safety functions with excellent measurement data quality for accurate and reliable localization. With an overall height of just eight centimeters, this space-saving sensor can be used wherever machines and vehicles require maximum performance, but have minimal mounting space.

Based on successful microScan3 technology, the 2D safety sensor, nanoScan3, fills a gap in SICK's safety laser scanner product offerings.
Benefits at a glance:
• Small housing
• Large functional scope
• Design suitable for industrial use and easy to integrate
• Programmable and dynamically adapting protective fields
• Measurement data output for navigation support
• Maximum detection reliability even when subject to challenging ambient conditions such as dust or dirt
With its small size, the nanoScan3 opens up potential applications where space is extremely critical; in particular, these include mobile intralogistics and mobile assistance and service robotics with autonomous transport platforms and carts, as well as collaborative robots (cobots). What's more, the nanoScan3 is setting a new standard in this market segment with its price-performance ratio.
From a technical approval perspective, the nanoScan3 fulfills Type 3 according to IEC EN 61496-3, SIL2 according to IEC 61508, and SIL2CL2 according to EN 62061, Category 3, as well as performance level d according to EN ISO 13849.
About SICK
SICK is one of the world's leading manufacturers of sensors, safety systems, machine vision, encoders and automatic identification products for industrial applications. With more than 1000 patents, SICK continues to lead the industry in new product innovations. The diversity of its product line allows SICK to offer solutions at every phase of production in the logistics, automotive, packaging, electronics, food and beverage, and material handling markets. SICK AG was founded in 1946 and has operations or representation in 65 countries worldwide.
http://www.sickusa.com
Featured Product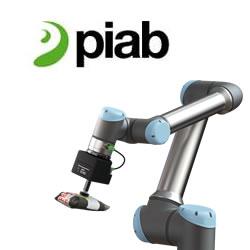 Piab's Kenos KCS gripper enables a collaborative robot to handle just about anything at any time. Combining Piab's proprietary air-driven COAX vacuum technology with an easily replaceable technical foam that molds itself around any surface or shape, the gripper can be used to safely grip, lift and handle any object. Standard interface (ISO) adapters enable the whole unit to be attached to any cobot type on the market with a body made in a lightweight 3D printed material. Approved by Universal Robots as a UR+ end effector.