MHS showcases its robotic singulation solution at ProMat, designed to address growing e-commerce order volumes and labor challenges facing distribution centers.
CHICAGO (April 08, 2019) - With over 45,000 supply chain buyers in Chicago for Promat, MHS (www.mhsglobal.com) showcases its robotic singulation solution at booth #N6539, designed to address growing e-commerce order volumes and labor challenges facing distribution centers. The solution combines advanced robotic technologies to pick individual items from bulk flow to feed downstream processes.

"The focus of our research and development initiatives is to create solutions for the most pressing challenges our customers face and bring them to market as quickly as possible," says Dean Terrell, senior vice president, product development, MHS. "As order volumes grow and labor availability continues to be a challenge, the robotic singulation solution is primed to make a meaningful impact for a wide range of customers."
Ideal for parcel processing operations handling large quantities of smaller-size packages, the robot uses proprietary vision software and algorithms to pick individual items from bulk flow then properly orient and place them in a single-file stream for downstream sortation processes. The solution uses a vacuum-based end effector to reliably handle packaging types commonly found in e-commerce and parcel processing environments, from rigid corrugate cases to malleable polybags.
Compared to conveyor-based singulation machines, the robotic solution has a much smaller footprint and reduced labor requirements. For distribution centers struggling to find and retain labor for repetitive material handling tasks, the robotic singulator from MHS enables them to reassign employees to higher-value tasks while achieving performance that matches or exceeds manual processes.
Visit ProMat booth #N6539 to view the robotic singulation solutions in person and learn how it can streamline processes in distribution and manufacturing operations.
About MHS
Founded in 1999, MHS Global is a full-service provider of innovative material handling systems that solve the challenges of distribution and fulfillment operations. We take a comprehensive, customer-centric approach that includes custom engineering, design, manufacturing and turnkey integration services. Our quality solutions leverage a broad range of controls and automated equipment, including but not limited to sorters, conveyors, extendable loading and unloading systems. We provide complete, responsive support to maintain systems for peak performance, with predictive analytics and local technicians to maximize long-term value and return on investment.
MHS has a global installed base of over $5 billion for small to large distribution and fulfillment projects in a variety of industries, including e-commerce, parcel, third party logistics and outside integrators.
# # #
Media Contact:
Dan Gauss, Koroberi
336.409.5391
dan@koroberi.com
Company Contact:
Lauren Pedley, MHS
LaurenPedley@mhsinc.net
Featured Product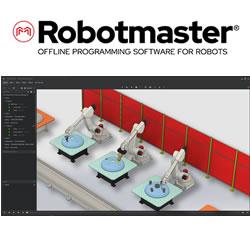 Robotmaster delivers unmatched, full-function off-line programming capability for robots - easy programming of precise robot motion control and quick generation of path trajectories of any size, with minimal programmer intervention. Our strong background in CAD/CAM (Computer Aided Manufacturing) software has enabled us to bring a revolutionary approach to programming industrial robots.