Broad spectrum of solutions will help manufacturers around the world to automate more than ever before.
At Automate Show in Chicago April 8-11, 2019, experts of the HAHN Group are giving insights about

industrial automation and robot solutions at booth #7372. HAHN Automation, Rethink Robotics GmbH, and Walther Systemtechnik will be present at the show.
Meet the experts of Rethink Robotics GmbH and find out more about the future of Sawyer and Intera. "We will continue to develop the world's best software for collaborative robots. Sawyer stands for simplicity, and speed of programming. Within the new setup of the company, Rethink Robotics GmbH plans to improve the reliability." Philipp Unterhalt, Managing Director of the HAHN Group and Interim CEO of Rethink Robotics, who is present at the show and available for interviews. Going forward Rethink Robotics GmbH plans to expand Sawyer into an entire robot family, including models with a higher load capacity as well as simpler models with less equipment. Service robots will complete the portfolio in the future.
HAHN Automation, the global specialist in automation is showcasing its innovations in assembly, processes integration and end of line testing (EOLT): Find out more about HAHN Automation's assembly integrated EOLT solutions, consisting of robots, transfer systems, turn tables or linear transfer handlings as well as manual workstations for dynamic testing of combustion engines. "At Automate, we are showing our EOLT solution and how this will give manufacturers the advantage of safe integration and a production friendly HMI design with a PLC interface. With this solution we offer the fastest technology in the market, with only 30 seconds of cycle time for loading and unloading, without losing the precision of test results." Philipp Klaschka, CEO HAHN Automation, Inc. WALTHER Systemtechnik stands for highest precision dosing and application systems for grease, oil and other media. Talk to the specialists about your optimal conveying, dosing, spraying, and pulsing systems. "At Automate Show we explain to you the best application technology such as adjustable volumetric dosing via chamber valves, contactless spraying and pulsing as well as all the new developments, like the diagnostic filter system or the advanced degassing station. If you are looking for a simple manual system or a fully
automated production line, we will find your application answers." Alexander Seibel, CSO Walther
Systemtechnik GmbH.
About HAHN Group
The HAHN Group consists of a network of specialized companies for industrial automation and robot
solutions. With its own production sites in Austria, China, the Czech Republic, Croatia, Germany, Great
Britain, India, Israel, Mexico, Switzerland, Sweden, Turkey, and the USA, the group currently employs
approx. 1,400 staff at 21 locations. Well-known customers from the automotive, consumer goods,
electronics, and medical technology industries benefit from the HAHN Group's 30 years of expertise and automation know-how. For more information visit www.hahn.group/en
Featured Product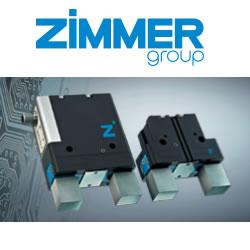 IO-Link is the first standardized IO technology worldwide for communication from the control system to the lowest level of automation.