Autonomous Solutions, Inc. (ASI), the industry leader for practical vehicle autonomy, has introduced a new GPS-denied navigation solution for vehicle positioning.
Autonomous Solutions, Inc. (ASI), the industry leader for practical vehicle autonomy, has introduced a new GPS-denied navigation solution for vehicle positioning.

This solution is ideal where satellite-based navigation is not an option, such as near buildings, under trees, near radio interference, and indoors. Historically, indoor positioning has relied on infrastructure installations such as magnets or wires in the floor or laser reflectors around a perimeter. These methods only allow travel on installed routes or only work if there's nothing blocking a vehicle's line of sight to the reflectors. Many new robotics technologies, vehicles, and applications have been waiting for a good positioning system that works without access to traditional satellite navigation systems and is free from the constraints imposed by indoor positioning infrastructure.
ASI's GPS-denied navigation technology has been developed and tested in operational real-world facilities, including the following example applications. Autonomous floor-cleaning robots operate in a retail shopping environment where shelving remains the same, but smaller displays may be moved around, and in stockroom or warehouse areas. The routes followed by security robots often include going into and out of buildings. Material handling in a constantly changing package handling facility poses a particularly difficult problem; ASI's technology has been designed to handle constantly changing environments, providing unmatched system uptime, flexibility, and ease of deployment. The system has also been tested in underground mining, where the automation technologies deployed in surface mines need only an alternative positioning system to make them feasible underground.
ASI now has a team of engineers dedicated to developing and fielding Facility Robotics technologies for use in cleaning, security, material handling, and similar applications. As the team that developed ASI's GPS-denied navigation solution, they are the ideal partners to help bring to market exciting new products to assist facility operations by creating opportunities, improving performance, and saving money.
ASI designs and manufactures unmanned vehicle systems, software, and components that are technology agnostic. ASI's robotic building blocks platform can be leveraged in a variety of industries including agriculture, automotive, mining, military, security, and industrial applications. ASI's vehicle automation kits are OEM independent and have been used for many different applications. Clients have experienced enhanced safety, increased efficiency, and improved accuracy.
For over 18 years, ASI has been a leader in vehicle automation and has worked with world leaders such as Sharp, Case IH and New Holland Agriculture, Ford, FCA America, Toyota, Hyundai, Rio Tinto, Barrick Gold, Boeing, Lockheed Martin, Northrop Grumman, Dematic and more. ASI has a strong software team which makes up over half of its engineering work force. ASI's Mobius software allows for command and control of a fleet of vehicles in addition to ease of use, industry specific task planning, and vehicle diagnostics. ASI has extensive experience automating vehicles of all shapes and sizes with an emphasis on systems integration, obstacle detection and avoidance, tele-operation, and fully autonomous controls.
Featured Product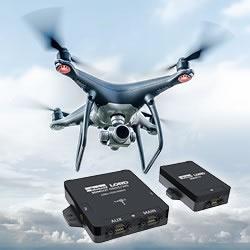 The C-series high performing inertial sensor package provides an OEM form-factor that is optimized for size and weight in Off Highway, Unmanned Ground Vehicles/Mobile Robots and Unmanned Aerial Systems. It's compact and low-profile anodized aluminum housing can be connected directly to a printed circuit board using a UART header or a Samtec FFSD ribbon cable and 2-56 fasteners.