Vention, a next-generation digital manufacturing platform for industrial equipment, is releasing new hardware components to support rapid deployment of robot cell equipment for Yaskawa's Smart Series robots. Building on Vention's library of over 500 modular parts and cloud-based 3D MachineBuilder platform, users can now design, order, and assemble customized equipment for robots like the HC10DT, MotoMini, GP7, and GP8 series—in as little as three days.
In line with Vention's mission to democratize machine design, new hardware for Yaskawa Smart Series robots is compatible with all existing components available on the Vention platform. Over a dozen examples of equipment designs are already available for customization directly on Vention's cloud platform.

End clients and integrators can also leverage the MachineBuilder to design their entire robot cell, including robot riser, part dispenser, part fixturing device, automated conveyor, fencing and guarding, and more.
"We are excited to partner with an innovative automation company whose products complement our Smart Series robots," said Chetan Kapoor, Senior Director of Technology Innovation at Yaskawa Innovation Inc. "Our customers and integration partners will benefit from Vention's rapid deployment capabilities."
"I believe democratization of industrial automation is a powerful long-term trend that will shape the industry in the years ahead, and the Smart Series targets a new category of customers in line with this direction. We are expanding our partner network with a company who invests in simplifying industrial automation deployments," added Patrick Halde, VP of Business Development at Vention.
Clients interested in learning more about Vention's support for Yaskawa's Smart Series line-up should visit vention.io/cobots/yaskawa.
About Vention.io
Vention is a next-generation digital manufacturing platform for machine design, enabling engineers and other manufacturing professionals to design, order, and assemble custom factory equipment in just a few days. Vention's AI-enabled, cloud-based MachineBuilder 3D integrates a comprehensive library of modular parts for robot cells, tooling, and automated equipment. Vention is headquartered in Montreal, Canada, and is backed by Bain Capital Ventures.
More information at vention.io
About Yaskawa Motoman
The Motoman Robotics Division of Yaskawa America, Inc. is a leading robotics company in the Americas. With over 400,000 Motoman robots installed globally, Yaskawa provides innovative automation products and solutions, including the new Smart Series line that allows quick and easy implementation of a robot system. Smart Series technology offers simple, intuitive robot programming methods for novice programmers.
More information at http://www.motoman.com
Featured Product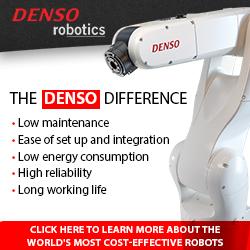 DENSO is the world's largest manufacturer - and user - of small assembly robots, employing over 17,000 of its robots in its own facilities. Over 77,000 additional DENSO robots are used by other companies worldwide. The compact, high-speed robots are used in traditional manufacturing sectors, as well as in advanced-technology applications in the medical, pharmaceutical and life sciences industries. Learn more about DENSO Robotics