The MicroPAQ-940P allows users to collect data from the harshest and confined areas previously thought to be unreachable.
Springfield, NJ— May 9, 2019 — at company headquarters, QEI, LLC announced the immediate availability of The MicroPAQ-940P, enabling owners of any existing SCADA systems the ability to gather data in even the harshest or confined environments. With both Ethernet and serial points for communication and a sleek 8.13" W by 5.5" H QEI customers are now able to send data to Masters Stations and IEDs (Intelligent Electron Devices) previously believed to be unreachable.

"Gas Pressure, Water Pressure, Transformers, the applications are almost limitless," said Normand Lavoie, President at QEI, LLC.
Many customers have already benefited from deploying The MicroPAQ-940P. Even before its formal release one of our major utility partners in the Northeast has already committed to implementing The MicroPAQ-940P to all of their Mater Stations in the network. The MicroPAQ-940P will enable them to gather pertinent data in even the most adverse conditions.
The MicroPAQ-940P is an update driven by customer feedback and is part of QEI, LLC's commitment to delivering the latest product updates in one convenient installation. The MicroPAQ-940P is immediately available, you can request more information by calling us directly at 973-379-7400 or visiting our website at www.QEIINC.COM
Founded in 1960, QEI, LLC is the worldwide leader in SCADA Systems. The company offers a wide range of products and services designed to provide longterm automation solutions.
QEI, LLC and The MicroPAQ-940P are either registered trademarks or trademarks of QEI, LLC in the United States and/or other countries.
The names of actual companies and products mentioned herein may be the trademarks of their respective owners.
For more information, press only:
Lee Pearce
973-346-5266
lpearce@qeiinc.com
For more information on The MicroPAQ-940P:
www.qeiinc.com
Featured Product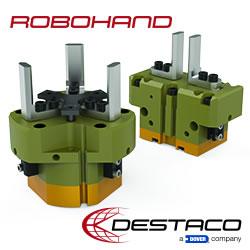 Automatically change end effector tooling quickly and easily with Destaco's Automatic Tool Changers. Designed with exceptional repeatability, high rigidity and load capacity, they are perfect for multiple tooling applications utilizing one robot. We offer different models and sizes to handle light-duty to heavy-duty applications. Our RQC/RTP Series provides a high level of flexibility with a configurable, modular design that accommodates up to four optional modular interfaces.