Monterey Bay DART identifying opportunities to develop a strong drone, automation and robotics technology cluster in the Monterey Bay Region
All eyes are on the skies with talks on developing a drone and robotics cluster in the Monterey Bay Region. Organizers of the first Drone and Robotics Symposium (taking place June 21st at the Monterey Hyatt in Monterey, CA) see an exciting opportunity to strengthen the Monterey Bay regional economy by focusing on emerging good-fit, clean-tech enterprises in the drone, automation & robotics technology (DART) space.

The Drone and Robotics Symposium will be a day of compelling talks, networking and mobilizing around bolstering the regional economy. Symposium presentations from leading researchers, educators, entrepreneurs, investors, and practitioners will focus on:
Clarifying and understanding the DART Strategy & Opportunity
Highlighting cutting-edge DART related research & education underway across the region
New DART related products & services currently available & in-development to solve real-world problems
Building momentum to realize DART related jobs growth and new venture formation
Fort Ord Reuse Authority's Economic Development Manager and symposium organizer, Josh Metz, sees enormous potential for economic growth in the Monterey Bay region. "The Monterey Bay is ideally positioned as a place for the cultivation and growth of the drone and robotics industries," he said. "We are a short drive from the global-tech and innovation hub of Silicon Valley, adjacent to the wide open Pacific Ocean and at the mouth of the Salad Bowl of the World in Salinas Valley. The time and place are perfect."
The Federal Aviation Agency (FAA) agrees. In a recent FAA report, it was estimated that by 2021, the UAS (drone) industry will create more than 70,000 jobs in the United States with an economic impact of more than $13.6 billion. This is expected to grow to 100,000 jobs and have an economic impact of $82 billion by 2025.
Symposium, speaker and trade show opportunity details are available at montereybaydart.org.
About Monterey Bay DART
The Monterey Bay Drone, Automation & Robotics Technology (DART) initiative brings together industry, government, academia and practitioners. DART provides regional coordination and advancement forums fostering economic development focusing on current and future growth sectors for new venture formation, jobs growth and regional vitality.
Featured Product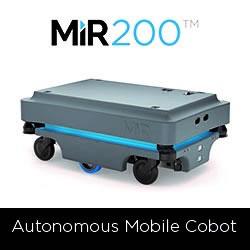 MiR200 is a safe, cost-effective mobile robot that automates your internal transportation. The robot optimizes workflows, freeing staff resources so you can increase productivity and reduce costs. MiR200 safely maneuvers around people and obstacles, through doorways and in and out of lifts. You can download CAD files of the building directly to the robot, or program it with the simple, web-based interface that requires no prior programming experience. With its fast implementation, the robots offers a fast ROI, with payback in as little as a year.