ACEINNA Showcases Industry Leading Sensing Solutions for Autonomous Vehicle Guidance and Current Management
ACEINNA plans to demonstrate its latest advanced sensing technologies at the Sensors Expo and Conference, to be held June 25 to June 27, 2019 at the McEnery Convention Center in San Jose, California. Booth number 1635. The exhibition area is open Wednesday, June 26 and Thursday, June 27th, starting at 10am.

ACEINNA is in Booth 1635.
ACEINNA will be demonstrating new sensor solutions - Current Sensors for use in high power computing and industrial applications, as well as new Inertial Measurement Unit sensors used to help autonomous vehicles (from farm equipment to self-driving taxis) to safely and reliably navigate farm fields as well as crowded urban streets.
In addition, ACEINNA has been asked to present at the show. If you are interested, please check out:
Dan Dempsey - 10:55-11:25 - Automotive Technology Theatre - How to Quickly & Easily Build Your Own Reliable, Inexpensive, and Precise Guidance System for Autonomous Vehicles
Mike Horton - 3:30pm to 4:20 pm - MEMS Track - Executive Ballroom A - MEMS 5 - High Integrity, Fault Tolerant Open Inertial Measurement platform for AI Based Vehicle Automation
To set up a meeting at Sensors expo to learn about ACEINNA's latest high performance, high quality sensor solutions, please contact Dan Dempsey at


ABOUT ACEINNA

ACEINNA Inc., is a leading provider of sensing solutions for automotive, industrial, telecom, datacenter and cloud infrastructure, consumer appliances, agricultural and construction markets. ACEINNA's precise positioning solutions are MEMS based, open-source, inertial sensing systems that are leading the industry by enabling easy-to-use, centimeter-accurate navigation systems for the autonomous revolution. ACEINNA's isolated current sensor product family is based on an AMR technology that enables industry leading accuracy, bandwidth and step response in a simple, cost effective single-chip form factor. ACEINNA has R&D facilities in Santa Clara, CA; Andover, MA; and Chicago, IL; as well as manufacturing facilities in Wuxi, China.

ACEINNA has earned the coveted Design News/UBM 2019 Golden Mousetrap Award for its OpenIMU Platform for ADAS and autonomous vehicle navigation and localization. The OpenIMU Platform was named as one of the Top Ten sensor solutions for 2018 by Electronic Products Magazine. The OpenIMU platform also received the Frost & Sullivan 2018 New Product Innovation Award in the global inertial measurement unit (IMU) industry.

Featured Product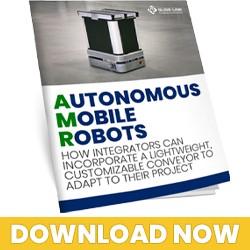 This eBook covers Glide-Line's conveyor attachments built specifically for AMRs. We go through the many variables that integrators are looking for in a cost-efficient AMR conveyor design, like: - lightweight, yet powerful - high flexibility & configurable -durability & dependability - DC-driven. At Glide-Line we solve problems that other conveyor manufacturers won't: simplicity - easy to maintain,flexible configurability, creating an efficient, hassle-free customer experience - customizations are normal to meet your needs.