One-day International Robotics Showcase in London on Thursday 27th June to feature exclusive live demos of latest UK innovations plus insights from world-renowned technologists
London, United Kingdom, 18 June 2019—The pinnacle showcase event of UK Robotics Week 2019 this year will host an exclusive keynote talk, "The World's Deepest Dive", to be delivered jointly by Anthony Geffen, the multi-award-winning documentary film maker and pioneer in multi-platform storytelling, and Patrick Lahey, Triton Submarine's Chief Designer, who built the unique submersible, the Limiting Factor. On Thursday 27th June at the International Robotics Showcase in London - organised by the EPSRC UK-RAS Network - BAFTA and Emmy-award winning filmmaker Anthony Geffen will share the inside story of the technology and techniques used to film the deepest ever dive in history. Chief designer, Co-founder and President of Triton Submarines, Patrick Lahey will explain how they designed this unique titanium submarine, including its robotics technology, enabling it to dive to the deepest depths in each of the world's five oceans. The International Robotics Showcase is open to the public and will take place at the Royal Geographical Society on 27th June 2019, 9.00am - 4.30pm. To register, please visit: https://www.ukras.org/robotics-week/showcase-event/

The International Robotics Showcase has become the centrepiece of the UK Robotics Week (#UKRW19). Now in its fourth year, this highlight one-day exhibition and conference will feature an array of the latest robotic technologies, live demonstrations, plus the winners of this year's Surgical and Manufacturing Robotics Challenges. The full-day programme includes talks by world-renowned technologists and experts, spanning:
· Nuclear robotics
· Offshore robotics
· Future AI and robotics for space
· Buried Infrastructure Inspection
· Multi-vehicle coordination
In his keynote address, Anthony - whose previous collaborators include Professor Stephen Hawking and Sir David Attenborough - will reveal the filming challenges of exploring the deep ocean with a pioneering submersible during the ground-breaking Five Deeps expedition. The team developed new camera systems that could be mounted on the submersible and operate at up to 10,000m below sea level, working with robotic landers with camera systems and allowing them to film Victor Vescovo's record-breaking dive - descending nearly 11km/7 miles to the deepest place recorded in the ocean. The team also had to design new rigs that could go inside the submersible and capture every moment of the dives, as well as new lighting systems that could be mounted on the outside of the submersible. Anthony's co-presenter Patrick Lahey became the second Canadian to reach the bottom of the Mariana Trench and the first person to dive the Challenger Deep twice. He will tell the inside story of how Triton designed and built a submarine that could not only make the world's deepest ever dive but can now dive to any depth across all the world's oceans, having already completed dives at the Puerto Rico Trench, the South Sandwich Trench, The Java Trench and Challenger Deep.
Additional attractions of the 2019 UK Robotics Week International Robotics Showcase will include an award ceremony for the winners of this year's AR-driven School Robot Competition, plus presentations for the winners of the Surgical Robot Challenge and the Manufacturing Robot Challenge. A brand-new whitepaper entitled "Ethical Issues for Robotics and Autonomous Systems" will also be launched at the event.
Commenting on the upcoming Showcase, founding EPSRC UK-RAS Network Chair and new Chair of the Strategic Advisory Board Professor Guang-Zhong Yang said: "Following a landmark event in Liverpool last year, we are excited to be bringing the International Robotics Showcase to the Royal Geographical Society in London this year, including what promises to be a very special keynote from film maker Anthony Geffen and Patrick Lahey. UK Robotics Week 2019 is set to be bigger and better than ever, and the Showcase is always an inspiring and fascinating event to round off this key annual week in which we celebrate the very best in innovation and creativity from the UK's roboticists, as our national industry continues to go from strength to strength."
For more information, please visit: https://www.ukras.org/robotics-week/showcase-event/
Full speaker programme: https://www.ukras.org/robotics-week/programme/
----Ends----
Notes to editors
For more details about UK Robotics Week and a full list of events nationwide, please visit: https://www.ukras.org/robotics-week/programme/
About the EPSRC UK-RAS Network (https://www.ukras.org/)
The EPSRC UK Robotics and Autonomous Systems Network (UK-RAS Network) is dedicated to robotics innovation across the UK, with a mission to provide academic leadership in Robotics and Autonomous Systems (RAS), expand collaboration with industry, and integrate and coordinate activities at eight Engineering and Physical Sciences Research Council (EPSRC) funded RAS capital facilities and Centres for Doctoral Training (CDTs) across the country.
Distributed on behalf of EvokedSet Ltd by NeonDrum news distribution service (https://www.neondrum.com)
Featured Product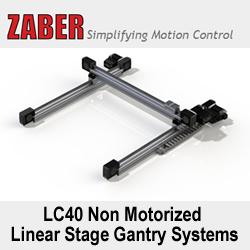 Zaber's X-LRQ-DE Series of linear stages have high stiffness, load, and lifetime capabilities in a compact size. The integrated linear encoder combined with stage calibration provides high accuracy positioning over the full travel of the device. At 36 mm high, these stages are excellent for applications where a low profile is required. The X-LRQ-DE's innovative design allows speeds up to 205 mm/s and loads up to 100 kg. Like all Zaber products, the X-LRQ-DE Series is designed for easy set-up and operation.