The X-LDQ-AE Series devices are linear motor stages with high precision and speed capabilities.
The X-LDQ-AE's innovative design allows speeds up to 1.5 m/s and minimum incremental move of 50 nm. The built-in controller and linear encoder allows pre-tuned closed-loop servo positioning with adjustable tuning parameters. An optional indexed knob provides convenient manual control for versatile operation even without a computer.

Features include:
• Integrated linear encoder provides high accuracy closed loop servo positioning
• Up to 2 g acceleration; 75 - 1000 mm travel options
• Up to 2.5 µm accuracy over 1000 mm travel
• Zero backlash
Featured Product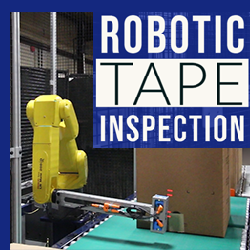 Do you have issues with overfilled cases, spilled cases, ruined product, unstable pallets, and end customer complaints because of improperly sealed cases? An inline tape inspection station can solve this issue and save you time and money. Contact Motion Controls Robotics (sales@mcri-us.com) to confirm rate and tape/case type.