Zaber's X-GSR-E Series devices are motorized goniometers with a large diameter of rotation and long travel.
The built-in motor encoder allows closed-loop operation and slip/stall recovery features. An indexed knob provides convenient manual control for versatile operation even without a computer. With a low, narrow profile and asymmetric mounting options, these stages excel at angular scanning applications where keeping a clear view of the central target is critical. Curved crossed-roller supports give these devices smooth motion and the roller cam drive provides exceptional accuracy and eliminates backlash.

Features include:
• Integrated, 500 CPR, motor mounted encoder
• Up to 80 deg/s speed and up to 60 Nm of torque
• 50 kg centred load capacity
• 150 mm and 225 mm centre of rotation options allow for two axes of motion about a common centre of rotation
Featured Product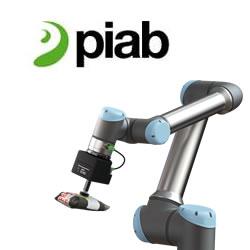 Piab's Kenos KCS gripper enables a collaborative robot to handle just about anything at any time. Combining Piab's proprietary air-driven COAX vacuum technology with an easily replaceable technical foam that molds itself around any surface or shape, the gripper can be used to safely grip, lift and handle any object. Standard interface (ISO) adapters enable the whole unit to be attached to any cobot type on the market with a body made in a lightweight 3D printed material. Approved by Universal Robots as a UR+ end effector.