Zaber's X-GSR-E Series devices are motorized goniometers with a large diameter of rotation and long travel.
The built-in motor encoder allows closed-loop operation and slip/stall recovery features. An indexed knob provides convenient manual control for versatile operation even without a computer. With a low, narrow profile and asymmetric mounting options, these stages excel at angular scanning applications where keeping a clear view of the central target is critical. Curved crossed-roller supports give these devices smooth motion and the roller cam drive provides exceptional accuracy and eliminates backlash.

Features include:
• Integrated, 500 CPR, motor mounted encoder
• Up to 80 deg/s speed and up to 60 Nm of torque
• 50 kg centred load capacity
• 150 mm and 225 mm centre of rotation options allow for two axes of motion about a common centre of rotation
Featured Product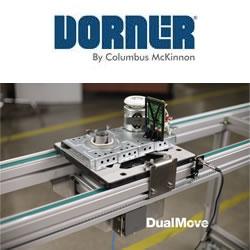 Dorner's 2200 Series Precision Move Pallet Systems are ideal for assembly automation. With features such as an innovative timing belt conveyor design and industry best pallet transfers, they get your product to the exact location, at the exact time and in the exact position it needs to be. They are now available with new options such as heavy load corner modules with 150 lb. capacity and 180 degree tight transfer corners for compact loops.