Zaber's X-NA-E Series of devices are computer-controlled, motorized linear actuators with high thrust and speed capabilities in a compact size.
The built-in motor encoder allows closed-loop operation and slip/stall recovery features. An optional indexed knob provides convenient manual control for versatile operation even without a computer. At only 20 mm high, these miniature actuators are excellent for applications where a small profile is required.

Features include:
• 25 and 50 mm travel
• Up to 30 mm/s speed; up to 25 N thrust
• Designed to replace standard micrometer heads on manual translation stages
• Hardened ball-tip (removable so that you can use the built-in threaded tip or a flat tip)
Featured Product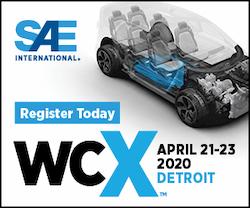 As the global leader in connecting and educating engineers, SAE International® brings you WCX 2020 World Congress Experience, the only place for the latest in consumer metrics, regulatory standards and technical sessions covering the entire vehicle, from bumper to bumper and beyond.