Zaber's X-LDA-AE Series devices are motorized linear stages delivering high speed, precision, and reliability in a compact package.
A centrally mounted linear encoder results in up to 1 µm position accuracy and consistent movement steps down to 20 nm. X-LDA-AE devices feature non-cogging ironless linear motors, providing high speed and acceleration capabilities. Both the drive and encoder are non-contact, and have no moving cables, resulting in an extremely robust system.

Features include:
• 200 nm repeatability; 1 µm accuracy; 20 nm minimum incremental move
• Direct position measurement from 1 nm resolution linear encoder
• Up to 0.8 m/s speed; up to 4 g acceleration
• 25 - 150 mm travel options
Featured Product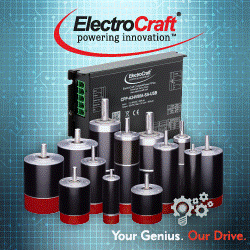 ElectroCraft exhibits its motion control product offer at Robotic related events at trade show and demonstrations across the world. We attend these events and conferences not only to show our motor and drive product offering, but to discuss and learn more about challenges involved with developing commercial robotics across markets.