Zaber's X-LDM-AE Series devices are motorized linear motor stages suited for applications demanding outstanding precision, throughput, and reliability.
A centrally mounted linear encoder results in 1 µm position accuracy and consistent movement steps down to 25 nm. X-LDM-AE devices feature high efficiency ironless linear motors, providing high speed and acceleration, while minimizing heat generation to improve repeatability. Both the drive and encoder are non-contact and have no moving cables, resulting in a high lifetime system.

Features include:
• 80 nm repeatability; 1 µm accuracy; 25 nm minimum incremental move
• Direct position measurement from 1 nm resolution linear encoder
• Up to 1.2 m/s speed; up to 3.5 g acceleration
• 60 - 210 mm travel options
• Non-contact ironless linear motor for ultra precision, high dynamics and zero backlash
Featured Product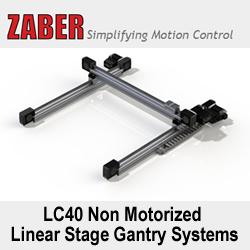 A Zaber gantry kit comes with everything you need to build a customized XY gantry system or XYZ gantry system. These gantry systems feature coordinated multi-axis motion, plug-and-play operation, easy integration with end-effector options, and built-in IO and E-Stop capabilities. An intuitive ASCII interface allows the user to easily communicate with the gantry systems using our free software, either Zaber Motion Library with APIs for several popular languages or Zaber Console. Third party terminal programs that can communicate over a serial port can also be used.