The X-RSM-SV Series are Zaber's most compact stepper and worm gear driven vacuum compatible rotary stages with built-in controllers.
The integrated stepper motor controller and motor driver allows for easy-to-use control, and the worm gear allows for continuous rotation. Zaber devices allow daisy-chaining in a vacuum chamber, decreasing cables and clutter. Only four feedthrough wires are required to control all devices in the daisy-chain via serial port. These stages are vacuum compatible in high vacuum (10-6 Torr) or low vacuum (10-3 Torr).

Features include:
• 21 mm total height
• 0.02° repeatability, 4 mm aperture
• Built-in controller; daisy-chains with other Zaber products
• Custom versions available
Featured Product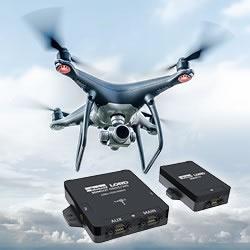 The new complete inertial navigation solution comes with GNSS/INS 3DMGQ7 sensor, 3DMRTK correction modem and real time SensorCloud RTK correction network. The sensor comes with Dual antenna GNSS, tactical grade IMU with centimeter-level accuracy with RTK. Low profile and light weight at 78 grams, this sensor is The sensor is optimized for size and weight in Unmanned Ground Vehicles, mobile robots and autonomous vehicles. The network interface 3DMRTK modem is seamlessly integrated into the 3DMGQ7 sensor supports industry-standard NMEA and RTCM 3.1 protocols. The network RTK support comes with cellular data plan. The SensorCloud RTK is a cloud-based RTK correction system with private encrypted data stream. Check out our G Series and C Series OEM products.