World's smallest brushless servomotor controller (with integrated encoder).
Barrett wins Puck® Patent #10,148,155. This is the 4th patent supporting the Puck®, named for its resemblance to a hockey puck. The 3rd-generation Puck®, aka P3™, is an amazing accomplishment. At only 4 grams (1/6X smaller than the nearest competitive brushless-servomotor drive), P3™ represents a game-changer for OEMs who need an extremely compact and networked servomotor-controller+encoder with vastly simplified wiring.

Barrett collaborated with Draper's internationally-renowned engineers and resources to subject P3™ to extremes of temperature, vacuum, and vibration under NASA contract #NNX17CP20C. This tough little CANbus-networked device, the diameter of a penny and less than 5 pennies thick, contains a 12-bit absolute encoder, 32-bit processor, and power electronics, adding less length to the motor than a typical encoder alone.
According to Barrett CEO, Bill Townsend, "We've actually been in the motor-controller business for 20 years, developing the Puck®. But the Puck® has been mostly hidden from view as we've been its chief OEM customer until recently. Now we want to share this technology with others as a way to make the biggest impact." In 2017, Barrett quietly began selling its new P3™ to OEM customers and has so far sold more than 1,000 P3s in commercial applications (medical, aerospace, entertainment) all working hard under various operating environments across several continents.
For more information on this ultraminiature brushless servomotor controller+encoder, please visit the P3™ web page https://advanced.barrett.com/puck-p3.
About Barrett Technology
Barrett is a trailblazer in high-performance robotic arms and hands, such as its WAM® arm and BarrettHand™, for emerging applications requiring superior versatility. Barrett has pioneered advanced motor controls, for example its Puck®, to enable the best force-controlled performance available. When combined with its gearless transmissions, these systems are in a league of their own. Barrett's latest robot, named Burt®, is an FDA-Registered Class-II medical device that immerses the user in a rich haptic field enabling unencumbered zero-gravity reaching in all directions.
The formal product launch of P3™ is intended to encourage other makers of advanced robots and motorized products/machines to leverage Barrett's P3™ technology.
Featured Product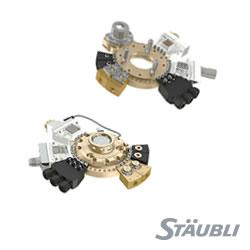 TX2 robots: redefining performance by offering collaborative safety and high performance in a single machine. These pioneering robots can be used in all areas, including sensitive and restrictive environments, thanks to their unique features. Safety functions are easy and inexpensive to implement. They allow a higher level of interactions between robots and human operators, while still guaranteeing protection of your people, production and investment.