New software features and enhancements for greater control, flexibility, and support
Waterloo, ON, June 2019 - OCTOPUZ Inc. continues to redefine the standards of Offline Robot Programming (ORLP) with their latest software update, OCTOPUZ 2.2. Building on the success of the OCTOPUZ 2.1 release in January, which introduced the revolutionary PathFinderTM suite of tools, this latest update offers new features and enhancements that give users a greater automatic experience, an improved workflow, and a wider range of support.

OCTOPUZ 2.2 greatly reduces the need for manual weld adjustments to be made thanks to the addition of automatic Collision Avoidance via Tool Axis Control; a new default setting that uses an algorithm to calculate the optimal tool position along a weld path. The Merge or Split Point and Path Statements feature also improves user control by enabling users to either quickly modify several statement points together or easily split either an imported path statement or a generated path statement to view and modify individual points.
Several feature improvements save users valuable programming time such as a Variable Workflow enhancement that provides a more natural workflow experience when programming weld applications. Likewise, for users with Panasonic robots, 3D Touch Sense support improves weld accuracy by enabling 3-point touch sensing in the X, Y, and Z directions. Meanwhile, support for Universal Robots e-Series robots and the addition of a French language user interface further extends the reach of the OCTOPUZ software.
The release of OCTOPUZ 2.2 shows the company's commitment to making robot programming so simple even a non-expert could do it. The new features and enhancements enable users to have more control and greater flexibility when programming complex applications.
Featured Product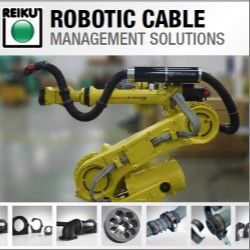 REIKU's Cable Saver™ Solution eliminates downtime, loss of revenue, expensive cable and hose replacement costs, maintenance labor costs. It's available in three sizes 36, 52 and 70 mm. All of the robots cables and hoses are protected when routed through the Cable Saver™ corrugated tubing.The Cable Saver™ uses a spring retraction system housed inside the Energy Tube™ to keep this service loop out of harms way in safe location at the rear of the Robot when not required. The Cable Saver™ is a COMPLETE solution for any make or model of robot. It installs quickly-on either side of the robot and has been tested to resist over 15 million repetitive cycles. REIKU is committed to providing the most modular, effective options for ensuring your robotic components operate without downtime due to cable management. www.CableSaver.com