University of Leeds Robotics Professor To Lead Expansion of UK-RAS Network With Focus on Research and Innovation Excellence
London, United Kingdom, 10th July 2019 - Professor Robert Richardson of University of Leeds has been elected as the incoming Executive Committee Chair of the EPSRC UK-Robotics & Autonomous Systems (UK-RAS) Network. His appointment was announced to Network members during the recent highly successful UK Robotics Week, held each year at the end of June to celebrate UK innovation strengths in robotics and autonomous systems. Outgoing Chair Professor Guang-Zhong Yang will continue in an advisory role as the Chair of the UK-RAS Network Strategic Advisory Board, providing strategic guidance and direction across translational, industrial and government policy.
Commenting on his election to UK-RAS Network Chair, Professor Richardson said: "This is an incredibly exciting time to be leading the EPSRC UK-RAS Network, which has made exceptional progress as a champion and organising voice for UK robotics innovation since the Network's launch just four years ago. My focus as incoming Executive Chair of the UK-RAS Network will be firmly on supporting, stimulating, growing and promoting RAS research excellence in the UK - working in synergy with committees and large projects to form a powerful UK research and innovation strategy." He added: "One of my priority actions will be to lead the establishment of new RAS topic themes aimed at enhancing fundamental robotics research within the UK and, more broadly, to deliver a harmonised RAS academic research vision to policy makers, industry and the public to ensure that the UK's world-class fundamental and applied robotics research continues to flourish."
Professor Richardson leads the 'Real Robotics' lab at the School of Mechanical Engineering. He is the Director of the Institute of Design, Robotics and Optimisation at the University of Leeds and Director of the Leeds EPSRC National Facility for Innovative Robotic Systems - a world-class facility for designing and creating robotic systems. He leads co-directs a major UK-funded project 'Self-Repairing Cities', with the vision of robots to automatically repair and maintain city infrastructure such as streets, roads and bridges. He also leads robotics in 'Pipebots', a large research project with the vision of swarms of small one-centimetre robots to automatically inspect the condition inside underground pipes in cities. Professor Richardson held a prestigious research contract to explore The Great Pyramid of Giza in Egypt using robotic technology, discovering writing that was hidden for thousands of years.
He is a founder and Chief Innovation officer for Acuity Robotics Ltd, a new start-up company from the University of Leeds focusing on robotic inspection technologies.
He is a Fellow of the Institution of Mechanical Engineering. His current research interests include exploration robotics for infrastructure inspection, safety and security, and exoskeletons for industrial and medical applications.
Following election by ESPRC UK-RAS Network members, other appointees to key leadership roles in the Executive Committee for the coming year include:
Public Engagement & Exhibitions: Dr James Law (University of Sheffield)
Challenges and White Papers: Professor Barry Lennox (The University of Manchester)
CDT Activities & Events: Professor Arthur Richards (University of Bristol)
Government Policy & International Engagement: Professor Robert Richardson (University of Leeds)
Entrepreneurial & Industrial programmes: Dr Adam Stokes (University of Edinburgh)
RAS Capital Asset Management: Professor Sarah Spurgeon (University College London)
Full details of the UK-RAS Network Executive Committee can be found here: https://www.ukras.org/about/executive-committee/
Ends -
Notes to editors
About the EPSRC UK-RAS Network (https://www.ukras.org/)
The EPSRC UK Robotics and Autonomous Systems (RAS) Network was established in March 2015 with the mission to provide academic leadership in RAS, expand collaboration with industry and integrate and coordinate activities at eight
Engineering and Physical Sciences Research Council (EPSRC)-funded RAS capital facilities, four Centres of Doctoral Training (CDTs) and with, currently, 28 partner universities across the UK.
The Network brings together the UK's core academic capabilities in robotics innovation under national coordination and encourages academic and industry collaboration to accelerate the development and adoption of RAS. The Network organises a wide range of activities including network and strategic roadmap events such as the UK Robotics Week, symposia, workshops, public engagement and exhibitions. It aims to strengthen the relationship with industry by supporting interdisciplinary mobility, secondments, developing proof-of-concept (PoC) projects and running design challenges. It has also a strong focus on government policy and high-level engagement with international stakeholders.
Featured Product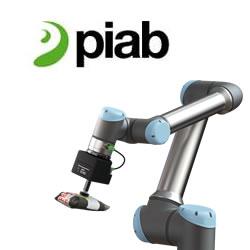 Piab's Kenos KCS gripper enables a collaborative robot to handle just about anything at any time. Combining Piab's proprietary air-driven COAX vacuum technology with an easily replaceable technical foam that molds itself around any surface or shape, the gripper can be used to safely grip, lift and handle any object. Standard interface (ISO) adapters enable the whole unit to be attached to any cobot type on the market with a body made in a lightweight 3D printed material. Approved by Universal Robots as a UR+ end effector.