Graphical Research has reported the addition of the "Robot Sensor Market: Europe Industry Analysis and Opportunity Assessment 2019 - 2025" report to their offering.
According to the Graphical Research new growth forecast report titled "Europe Robot Sensor Market Size by Product (Force Torque, Vision, Ultrasonic, Acoustical, Tactile, Laser Range, Proximity), By Robot Type (Industrial, Service, Collaborative), By Application (Manufacturing, Logistics, Defense, Agriculture, Medical, Domestic, Entertainment)", Estimated to Cross USD 1.2 Billion by 2024
The increasing adoption of industrial robots across the automotive sector in Germany is one of the major factors that has proliferated the Europe robot sensor market. The need for automation in higher precision and low-cost manufacturing has led to a broader penetration of robots in this sector. Moreover, the implementation of robotics due to complex task-performing capabilities gives these manufacturers a competitive advantage. It can simplify operational processes and increase the production rate. Manufacturers make use of the robotic systems in applications including welding, painting, assembly of parts, machine tending, and part transfer. This is contributing towards the growth of the Europe robot sensor market.
Breakthrough in robotics technology has led to the advancement and in industrial revolution 4.0. The rise in the adoption of technology has led to the increased penetration of robotics in manufacturing industries in this region fueling Europe robot sensor market. The growing concern of employee safety has also accelerated the incorporation of robotics systems by manufacturers in different sectors, fostering the growth of the Europe robot sensor market. These systems can perform dexterous and complicated tasks, such as placing the parts on the pallets, loading or unloading of heavy parts, and material handling, which automatically reduces the risks involved in executing them. These systems are best suitable for performing repetitive and monotonous tasks, thereby eliminating the need for labor force, thus reducing the overall cost.
Decreasing cost of robots has also increased the market share of the Europe robot sensor market. The prices of industrial robots have decreased owing to the increasing technological advancements in the semiconductor industry. Prices of several sensors, such as vision sensor and force-torque sensor, have witnessed a decline, driving their demand across several industries. The implementation of these low-cost sensors has further reduced the cost of robots, which augmented their demand in the Europe robot sensor market.
The prominent players in the industry are ifm electronic GmbH, Baumer, ams AG, and Balluff AG. They are expanding their business in other regions to gain a competitive edge in the Europe robot sensor market. In March 2018, Balluff launched its plans to expand its headquarters in Switzerland. In addition, strategic activities, such as acquisition and mergers, are initiated by companies to increase their market penetration. In January 2018. Balluff acquired Matrix Visions, a manufacturer of image processing components.
Segments We Cover:
Europe Robot Sensor Market Statistics, By Product:


Force Torque


Vision


Ultrasonic


Acoustical


Tactile


Laser Range


Proximity


Europe Robot Sensor Market Trends, By Robot Type:


Industrial


Service


Collaborative


Europe Robot Sensor Market Growth, By Application:


Manufacturing


Logistics


Defense


Agriculture


Medical


Domestic


Entertainment


Featured Product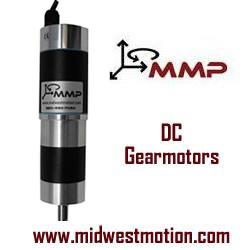 Midwest Motion Products, Inc. (MMP), is a well-established, healthy, & growing Family Owned Business, founded in 2001. MMP specializes in cost-effective standard DC Gearmotors, Motors, Controls, and ancillary equipment. Known world-wide for our "Lightning Fast" delivery capabilities, you can have a Standard Planetary or Right Angled DC Gearmotor BUILT and SHIPPED, often on the very same day you call. Offering Brushed and Brushless designs, with winding voltages ranging from 12 VDC to 120 VDC, we can deliver your "Robust & Reliable" samples within HOURS, instead of weeks, or even months.