The FAULHABER GROUP is reorganizing its North American Operations Center to accelerate future growth.
As of July 2019, MicroMo Electronics Inc. (MICROMO) has been officially reorganized as FAULHABER MICROMO LLC and now becomes a fully integrated part of the FAULHABER Drive Systems division of the FAULHABER GROUP. The restructuring represents the realization of the long-term vision of the late owner of the company, Dr. Fritz Faulhaber Jr., and serves to solidify FAULHABER MICROMO's position in the North American market as a leading provider in the area of high precision miniature motion systems. Dr. Faulhaber's vision of a family-owned single corporate entity was carried through by his widow, Ping Faulhaber. As the most recent President of MICROMO, Ping states, "this reorganization will ensure that FAULHABER MICROMO can flourish and grow as a Faulhaber family owned company for generations to come with one name and one vision which will enhance the benefit to our high tech customers." FAULHABER MICROMO remains under family ownership, including Ping Faulhaber, as a 100% subsidiary of FAULHABER Drive Systems, headquartered in Schönaich near Stuttgart, Germany.

"The name FAULHABER MICROMO is well chosen for a family company because it honors important elements of both of the founders' legacies" says the new CEO of FAULHABER MICROMO LLC, Karl Faulhaber. He is the grandson of the founders of both MicroMo Electronics Inc. and FAULHABER Drive Systems.
FAULHABER MICROMO intends to enhance the customer experience for the North American market by utilizing the extensive engineering, design, and project management capabilities of FAULHABER, the global leader in precision drive systems.
This organizational change will be underscored by a transition from the existing MICROMO company brand to the FAULHABER brand which bears the name of the founding family and has become known around the world as a symbol of high quality and innovation in the precision drives industry.
About FAULHABER
The FAULHABER Group offers the world's largest consolidated portfolio of miniature and micro drive system technologies available from one partner in the world today. The Group specializes in the design and manufacture of complex, high precision miniature and micro drive systems for challenging areas of application like medical devices, handling automation, telecommunications, and precision optics.
The FAULHABER brand name is known worldwide as a symbol of high quality, precision miniature drive systems, components and controls. With a technology focus on the self-supporting, skew-wound, ironless rotor, DC Motor and precision system components such as gearboxes, encoders, and motion controllers the brand name has been built around the highly competent design, manufacturing, and after sales service and support of the three founding members of the FAULHABER Group.
www.faulhaber.com
Featured Product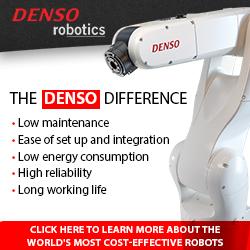 DENSO is the world's largest manufacturer - and user - of small assembly robots, employing over 17,000 of its robots in its own facilities. Over 77,000 additional DENSO robots are used by other companies worldwide. The compact, high-speed robots are used in traditional manufacturing sectors, as well as in advanced-technology applications in the medical, pharmaceutical and life sciences industries. Learn more about DENSO Robotics