Festo supplies pneumatics and electrics that meet FSMA standards for safe quality food processing and packaging.
ISLANDIA, NY, August 27, 2019 — Festo showcases at Pack Expo, September 23-25, Las Vegas Convention Center, pneumatic and electric products compliant with the Food Safety Modernization Act (FSMA) guidelines on safely processing, holding, and packaging food. (Festo Pack Expo Booth # LS-6349)

It is vital that compressed air intended for direct contact with food and used at the end of the packaging line is filtered as clean as possible. For this reason, air filtration efficiency of 99.999% is the first line of defense for maintaining food safety.
For ensuring that clean air is utilized on a machine, Festo offers pre-configured MS-Series compressed air preparation units. MS-Series units meet or exceed the Safe Quality Food (SQF) recommendation for 99.999% efficiency and a final filtration stage of 0.01 micron. Air quality of 1:4:2 or better can be achieved in accordance to the ISO 8573-1:2010 standard.
Clean design valve terminals and actuators
The MPA-C valve terminal is rated IP69K and can be mounted directly on a machine. The MPA-C is designed for harsh washdown environments and its rounded contour ensures cleanability.
Like the MPA-C, the stainless steel CRDSNU cylinder meets current Good Manufacturing Practices (cGMPs) for cleanability. There are no threads on the CRDSNU bearing cap to trap contaminants. Its self-adjusting end-position cushioning system does not contain contaminant susceptible adjusting screws. The actuator also utilizes NSF-H1 grease and FDA approved seals.
Festo features clean-design fittings and a range of FDA compliant tubing that resists hydrolysis, cracking, and wear in harsh washdown environments.
Many Festo electric actuators demonstrate how the company meets cGMPs outside of the food and splash zones. Electric actuators such as the ELGA feature easy clean wipe-down exteriors. Body profiles prevent build-up of dirt or debris. Units can be pressurized to help prevent ingress of particles.
For more information about these and other FSMA compliant systems at Festo, call 800-993-3786 and/or visit https://www.festo.us. And visit www.festo.com/foodsafety for downloadable materials on sanitary design.
Featured Product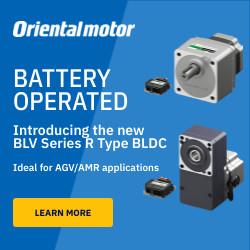 The BLV Series R Type brushless DC motor (BLDC motor) speed control system offers the design of motor and driver significantly reduced in size and weight, yet high-power, and contributes to the battery driven automation. The BLV Series R Type is compatible with the two interfaces of Modbus (RTU) and CANopen communication.