At Pack Expo, Festo demonstrates how to bring packaging machines to market faster with less engineering cost.
ISLANDIA, NY, August 27, 2019 — Festo features innovations that shorten packaging machine development time and reduce engineering overhead at Pack Expo, September 23-25, Las Vegas Convention Center. (Festo Pack Expo Booth LS-6349)

Design a pick-and-place robot and control cabinet in minutes
Festo demonstrates a Cartesian robot and control cabinet that were designed in minutes utilizing the Handling Guide Online and Festo Motion Control Package online tools. These productivity tools slash the costs of engineering, assembling, and programming Cartesian robots - robots that can be used for pick and place, assembly, and general-handling applications.
With Handling Guide Online, engineers enter application parameters such as load and speed and the online tool designs the optimum two- or three-axes robot. The design process averages 20 minutes. At the completion of the session, the engineer receives a CAD file, bill of materials, and quote. Festo Cartesian robots are assigned a customer specific part number that facilitates reordering and global support. Robots are purchased as an all-in-one-box kit or as a ready-to-install subassembly.
The Festo Motion Control Package concurrently designs the control panel. Control panels arrive fully assembled. Personnel simply attach power and communication cables and begin the teaching process, which involves function blocks, not a specialized programming language. Robots can be in operation in a matter of hours after arrival.
Fast changeover
The VTEM Motion Terminal's intelligent pneumatic valves change functionality based on downloadable apps. The Motion Terminal is ideal for products with short lifecycles, lines where multiple stock keeping units (SKUs) are manufactured, and small lot production. At Pack Expo, Festo shows the Motion Terminal changing functionality in a matter of seconds. Functionalities include:
• Pressure control with a fluidic muscle DMSP
• Presetting travel time with a DGC linear drive
• Flow control with flow sensors SFAH
• Caudal regulator with the DGC linear drive
• Pick and place with a DGSL mini slide
Fast, trouble-free assembly with these linear axes
The low-cost linear actuator ELGC and mini slide EGSC are designed for interoperability and assembly in a matter of seconds. Visitors to the Festo booth can try their hands at assembling ELGC and EGSC and see for themselves how quick and easy these components go together. Actuator and slide offer an optimal ratio between installation space and working space and do not require mounting plates.
Fast engineering with this innovative end-of-arm tool
The new DHEF adaptive shape gripper is an end-of-arm tool that offers maximum gripping flexibility with minimal engineering. The adaptive shape gripper automatically grasps mixed objects, multiple shapes, fragile items, and unaligned objects. The flexible silicone cap gently forms around objects, gripping it firmly. This gripper is ideal for collaborative robotics.
Other Festo Pack Expo highlights include:
• Grippers
• Vision systems
• A portfolio of IO-Link solutions
• Festo Stars of Automation for guaranteed 24-hour shipment of core products.
For more information about these and other systems at Festo, call 800-993-3786 and/or visit https://www.festo.us.
Featured Product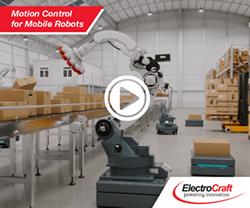 ElectroCraft is showcasing its award-winning mobile robot technology including their powerful and compact wheel drives, high-torque-density brushless DC motors, precision linear actuators as well as servo motor drive technology at a variety of conferences and tradeshows including the Boston Robotics Summit. Robotics Summit is the premier symposium for the sharing of ideas, technology, and market developments for robotic technologies across industries. Beyond a showcase and pitch of product, ElectroCraft is eager to participate in the collaborative discussion of challenges and opportunities that will shape the near and long-term robotic marketplace.